Thanksgiving Day is a jewel, to set in the hearts of honest men; but be careful that you do not take the day, and leave out the gratitude.  ~E.P. Powell
I have always looked forward to Thanksgiving Day each year regardless of where I was in the world.  Although it is a day that is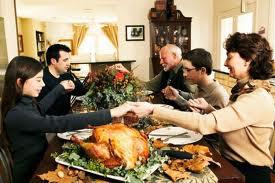 celebrated in the States and for a specific purpose, I believe it should be a day to celebrate worldwide.  To stop and take a day together with your family and close friends in order to be thankful, what better purpose for a holiday is there?  As with any holiday, regardless of what it is for, commercialism seems to sneak its foot in the door to take advantage of the season.  Materialism tends to take hold regardless of the occasion and then the real significance gets lost in the euphoria of the spending and buying frenzy.  It takes the joy out of the reason for the season and can cause you to forget the real purpose for which you are taking this time off from the usual business of the day.
I love Thanksgiving Day, a day to stop and prepare  a special meal together, everyone taking part to contribute their portion to the meal.  Sitting down together with the ones you love to share a laugh, a smile a time  to share your gratefulness for what you do have instead of worrying about what you wish you had or cannot obtain.
Wherever our family has lived, regardless of the culture or those we have worked with, we have always introduced Thanksgiving Day as a day to remember and a time to sit down all together at a table and enjoy each others company.  It has made an impression as in Taiwan, Italy, and in South America we have friends that still take this day to commemorate the list of reasons that they need to be grateful for!  If I had my way, I would make it an International Holiday so that all the Peoples of the world would stop and take stock of what they have and give thanks.  Everyone in the family would be present to have a wonderful meal together, fun with the family.  Perhaps it could catch on and the family would decide from then on to do that more often during the year even.
We have grown so addicted to stress and running around feverishly to get somewhere to the point that hardly any families enjoy even one meal  to sit all down together!  It was a rule in my house as I was growing up that everyone be present for dinner in the evening!  I have tried to continue that good habit throughout the years with my family.  There is a little saying that goes "The family that prays together, stays together" and it is true.  Regardless of what your beliefs may be, if you learn to be grateful together as a family, you will learn to love each other mush more and chances are, you will be a tight-knit family that will be close forever, even if not geographically!
Are you thankful?  Then celebrate!