Suicide by Political Correctness.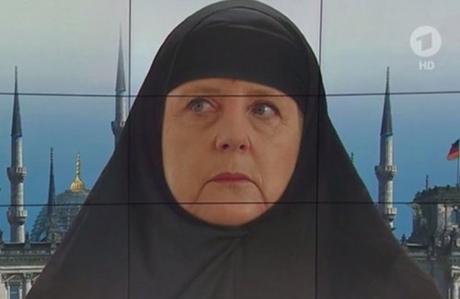 Merkel: Doubling down on stoopid
From Washington Post:  With Germany stunned by a series of bloody attacks, Chancellor Angela Merkel called Thursday for an "early warning system" to detect radicalization among asylum seekers even as she insisted that the nation still has a moral duty to offer sanctuary to those fleeing war.
In her most comprehensive remarks since a wave of violence this month, Merkel described new fears gripping Europe. She said Germans were now locked in "a struggle, or a war, if you like" with the Islamic State, but could not turn their back on people in genuine need.
The welcome-mat policies of Merkel's government have come under increasing criticism and demands for review. Germany has taken in more than 1.3 million refugees, asylum seekers and others since last year, including many fleeing war in Syria and elsewhere.
But even some former supporters of the policies have raised questions after four assaults in the span of two weeks — including two involving asylum seekers who had pledged allegiance to the Islamic State.
"Fear cannot be the guide for political action," Merkel said. "I didn't say this was a going to be simple. That we could just do it. But I am still convinced that we can do it," she added. "This is a historic test in a time of globalization."
Yet she also called for new steps and faster implementation of existing decisions to improve national security. Merkel said she has spoken with President Obama about increasing intelligence cooperation — seeking to improve the lines of communication that have been tested since revelations in 2013 that U.S. intelligence had spied on the chancellor.
She additionally called for the army to begin training under the supervision of German police, so it could respond in the event of major terrorist attacks. In a nation still leery of army involvement in domestic affairs, given the Nazi and Cold War eras, her proposals are seen as significant.
An editorial published this week by Bayernkurier, the newspaper in Bavaria of the Christian Social Union, one of Merkel's coalition partners, blasted her for opening the door to risk. "The chancellor has subjected us to a security risk with her open borders and arms," the editorial stated. "Tens of thousands of people of fighting age who haven't been properly registered are in our country. Of many of them, the state neither knows their proper name, nor their right age, nor their current place of residence."
Merkel on Thursday reiterated plans to increase Internet surveillance and hire a consulting firm to examine Germany's deportation system. She also called for tighter weapons laws to prevent the sale of guns on the Internet.

Read the rest of the story here.
DCG