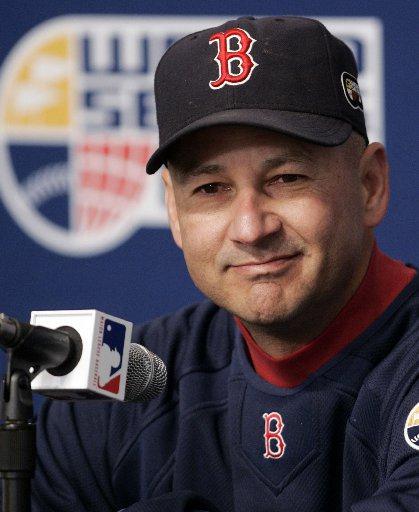 I am terribly saddened to learn that the greatest Red Sox manager in my lifetime, Terry Francona, is stepping away as Red Sox manager after eight highly successful seasons at the helm.
744-552 record as Red Sox skipper, from 2004-2011. and most importantly, 8-0 in the World Series, and two championships on his resume.
I honestly believed that he would manage the Red Sox as long as wanted to do it. And I think he is doing just that. Eight years in the Boston fishbowl was probably enough for him. At the press conference at Fenway yesterday, Tito looked tired and drawn. I know he has had some health concerns over the years, and he may have finally decided he'd had enough.
The Sox had two options on him, for 2012 and 2013. They will decline them, so he has not been fired and has not resigned.
Tito was the perfect fit for the Red Sox. Widely respected by the players, fans and media. He knew how to handle the media so well, and that is a big part of managing a team so closely followed as the Red Sox. When he arrived in late 2003, no one knew what to make of him. He had managed the Phillies for four years in the late 1990s with very little success.
I will forever respect him for the way he managed the 2004 club in the postseason. A big part of the Red Sox winning it all for the first time in 86 years was the buttons he pushed. ''
I believe that Tito is frustrated and tired after this terrible finish to the 2011. He has earned the right to walk away on his own terms. I would bet he will take some time off, maybe a year or two, and then get back in the game. There has been speculation he might end up in Chicago, with either the White Sox or Cubs. But I bet he wants to relax a while after all this.
The next Red Sox manager? That's for another post.
I wish you much success and good health in your future.
Thank you for 2004. And 2007. You're all class, Tito.
You made my life in New York City so much more bearable with both wins.