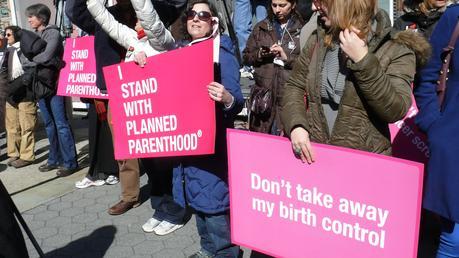 Thank you, Planned Parenthood
100 years ago, a young woman named Margaret Sanger opened the first-ever birth control clinic in the Brownsville neighborhood of Brooklyn, New York. Only ten days later, police raided the clinic and arrested Sanger and her staff. Sanger spent 30 days in jail, where instead of quietly acquiescing, she shared birth control information with other female inmates. After her release, Sanger opened the clinic a second time. Then, a third. Margaret Sanger went on to become the face and spirit of the American reproductive rights movement. She gave lectures across the country, distributed pamphlets, an illegal act at the time, and continued to open brick-and-mortar clinics around the country. Today, there are 650 Planned Parenthood clinics serving communities across America.
Margaret Sanger's story reads like that of a flesh-and-blood superhero. Her tenacity, vision, and courage to stand up for what she believed in when those beliefs were far from popular opinion is inspiring. Women today owe much to Margaret Sanger and the women with whom she worked.
Of course, alongside Sanger and her predominantly white, middle-class female colleagues, women of color were also working to advance reproductive rights. Women of color have historically been excluded from narratives about the birth control movement, which often characterize the movement as by white women, for white women. However, from Dr. N. Louise Young, the first black woman to run a medical practice in Maryland in 1932, to Thelma Patten, who in 1936 became the first black female ob-gyn in Texas, to Faye Wattleton, who became the first black president of Planned Parenthood in 1978, women of color have played an invaluable and often overlooked role in the reproductive rights movement.
Despite a legacy of hard work on all fronts by women of all races, the fight to secure women's reproductive rights is far from over. Millions of women around the country still lack access to birth control, safe, legal abortion, and basic ob-gyn services. In fact, more than one-third of U.S. women of reproductive age live in a county that doesn't have an abortion provider. This access is all the more difficult to obtain given Republican politicians' efforts to defund Planned Parenthood, a key provider of these services. Planned Parenthood has long been under attack from conservative, pro-life politicians who are often upset that taxpayer dollars partially fund an organization that provides services they believe to be fundamentally immoral.
Meanwhile, President Obama has recently moved to permanently secure funding for Planned Parenthood. A new rule proposed by the Department of Health and Human Services would block states from defunding the family planning provider for political reasons. The rule says that states cannot withhold Title X federal family planning money from certain recipients for any reason other than the provider's "ability to deliver services to program beneficiaries in an effective manner." Essentially, this means that states cannot vote to defund Planned Parenthood because some of its clinics offer abortion services. If this new rule becomes permanent after a 30-day public comment period (which is likely), the states that have voted to defund Planned Parenthood would be forced to back down from their fight against the organization.
And why does this rule matter? Because as of this month, the future of Planned Parenthood and the state of women's reproductive rights is uncertain. Our new president will appoint a new conservative Supreme Court justice who could enable the court to overturn Roe v. Wade and uphold state regulations that hold back funding from Planned Parenthood. A conservative 5-4 or 6-3 Supreme Court would cut back on abortion rights, undoing much of the progress made in the last 40 years since the Roe v. Wade decision. While liberal states would likely continue to fund Planned Parenthood, this means that women living in conservative-leaning states across the nation would have trouble accessing the birth control they need. They would be robbed of their access to safe, legal means of ending unintended or dangerous pregnancies. Many women would lose their sole resource for a host of other basic health care services, including birth control, pregnancy care, annual ob-gyn exams, and breast and cervical cancer screenings.
Yet an issue even larger than healthcare is at stake here. As the president of the Center for Reproductive Rights, Nancy Northrup, said, "women's fundamental human rights should never be treated as political spoils to be won or lost." The fight for reproductive rights cannot be about which side—left or right—is winning. Instead, we must strive for open, honest bipartisan dialog about how we can best serve women around the country.
On the 100-year anniversary of Planned Parenthood, therefore, let's celebrate the accomplishments of Margaret Sanger and the amazing men and women who have come after her. Let's remain vigilant about and aware of our government's decisions to protect or strip a woman of her fundamental human rights. On the tail end of a year in which two historic events meaningful to the reproductive rights movement — the 100-year anniversary of the largest family planning provider in the nation and the election of an unabashedly pro-life president — we must remember that while incredible men and women have accomplished much in securing a woman the rights to her own body, we must keep fighting the good fight for a little while longer.