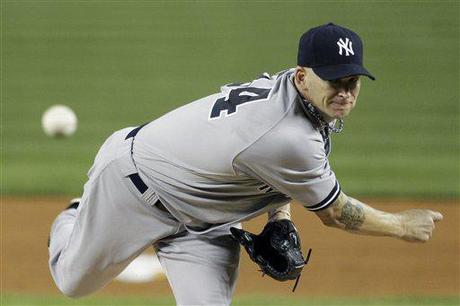 Oh AJ. After I recovered from my first inning anxiety attack, you really got your shit together and settled down. You should, of course, thank Curtis Granderson for his spectacular defense, the Baseball Jesus for his clutch RBIs, and rookie Jesus Montero for his first post-season hits. Jesus is now batting 1.000. And as my very good friend The Fabulous Penguin told me: 
Behind heroics from AJ and our pinstriped amigos, the Yankees beat the Tigers 10-1 last night in a must-win Game 4. I watched the game at my favorite Irish pub in New York, Biddy Early's, where, with a $10 pitcher of Coors Light, you can play beer pong and have one of the best cheeseburgers in the city. But I was too nervous for beer pong or cheeseburgers last night. I was with a really random, terrific group of people - my brother, the psychic, some fantasy football guys, a hilarious Cardinals fan, my good friend Monika who I call the Magical Elf (because she looks simply incredible for her age), my very good friend and fellow Yankees fan Chris, Chris's super cool fashion-blogging girlfriend, and my best friend/gay husband/kickball captain Carl. Baseball aside, I had such a great time. And I thank everyone for bringing their karma, luck, good will, psychic powers, and sarcasm to the bar. You all better be there again on Thursday. That is a threat.

 


Since I did not eat dinner, I was drunk by about the fourth inning.

 

That was around the same time when Chris leaned over and whispered to me, "Shhhh….AJ is throwing a shutout." As soon as he stopped speaking, Victor Martinez immediately hit a homerun.

 

The score was 2-1 and I was still freaking out. My heart rate did not decrease until the fifth inning, when the Yankees went ahead 4-1 on Granderson's double and ARod's sac fly.

 

I was happily tipsy, although not entirely confident, for the next three innings.

 

In the eighth, however, the Yankees opened up the game.

 

We sent 11 batters to the plate; ARod, who had been hitless in the ALDS, got two singles in the same inning; Jesus Montero entered the game and proceeded to hit an RBI-single in his first post-season at-bat; and by the time the eighth was over, the Yankees had a nine-run lead and I was pretty much wasted.

 

I don't really care about the details, the final score, or that AJ initially scared the crap out of me. All that matters is that the Yankees forced Game 5 and the ALDS is headed back to the Bronx, bitches.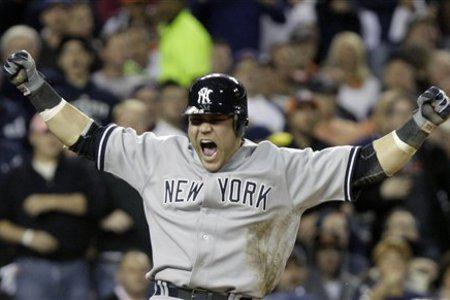 We left the bar around midnight and stumbled home.

 

My younger brother was so drunk that he missed my apartment door and walked into the wall.

 

I decided that I was finally hungry at 2:00 a.m. and made a cheeseburger – which I proceeded to eat while sitting on my kitchen floor.

 

I do not know if I just didn't want to wait until I made it to the living room or if I could not physically make it to the living room, but either way, I ate my burger on the floor and then passed out while watching SportsCenter.

 

I woke up this morning, shockingly not hungover, and looked at Twitter, only to see that I had posted about twenty tweets that I do not remember writing. I learned last night that: 1) AJ Burnett is not the devil; 2) Jesus Montero really can hit; 3) I still hate Rafael Soriano; and 4) Twitter is extremely dangerous for drunk people.

 

This must be why there are so many "hacking scandals" – celebrities wake up, think "holy fuck, why did I write that?!," and then they just deny, deny, deny. I was all prepared to fabricate a similar hacking scandal, but my tweets were surprisingly tame, laced only with arrogance and glee.

 

I went to the office still flying high. And I could not be more excited for tomorrow night.