Google had tremendous earnings last night (10% beat) and that has the Futures flying (along with AAPL's IPhone 4S release, which has, as usual, lines around the block to buy their product on the first day).  We already made some quick futures money in Member Chat, shorting the Nas (/NQ), Dow (/YM) and Oil (/CL) at 6am in Member Chat.  Why go short – just because we had a silly pre-market run-up and we wanted to lock in gains – now it's 7:30 and we're done – waiting and seeing how things go into the open. 
Futures trading is very useful for locking in pre-market gains but you have to be very careful or it's just as easy to blow them and, as we demonstrate in Las Vegas Sunday Night – the futures markets are clearly a load of manipulated BS – especially in thin after-hours and pre-market trading.  Fortunately though, that's fine with us as one of the main lessons at PSW is "We don't care IF the market is rigged, as long as we can figure out HOW the market is rigged and place our bets accordingly."  
The news we didn't want to risk the futures on comes up at 8:30, as we get the Retail Sales Report for September and not much is expected after a very weak August, where Auto Sales really dragged us down with a 0.2% drop and there was nothing sexy about the other items either.  Still, one thing people fail to grasp when looking at these charts is that the numbers are in MILLIONS, not thousands – so August 2011 was $389,502,000,000 in total sales and up $26Bn from last August.  That's a pretty healthy pace of $4.6Tn in just Retail and Food Services – what recession?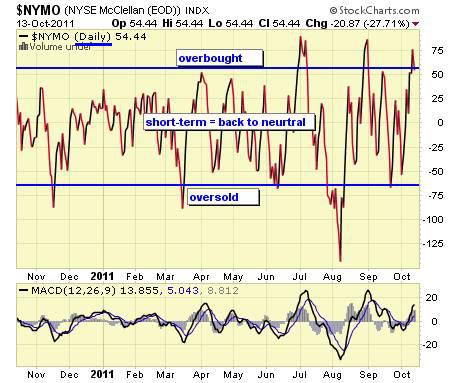 As you can see from David Fry's chart, we probably need to work off some overbought conditions before we can have a proper rally.  Also, in an early Alert to Members this morning, we looked over our updated Big Chart and determined it was very unlikely that we will hit the levels we need to go bullish into the weekend so we are already planning to short the Nasdaq into the morning pop to put us neutral into the weekend with a 15/15 allocation
(short-term positions, of course).…