As I said yesterday, bad news is now good news as Bernanke promised to crank up the presses if the economy stumbles and yesterday we had terrible jobs numbers and an absolutely awful Kansas City Fed Manufacturing Survey and Eurozone Economic Confidence continued to decline and that was capped off with an S&P downgrade of Spain.  
RALLY TIME – of course!  The markets broke right over our 50% lines, forcing us to add a few bullish positions for purely technical reasons while we wait and see when or if the madness will end.  
We've already had a few hours of extensive conversation about the economic situation in Member Chat so let's just focus on how we can play the next half of the retrace back to our highs at Dow 13,300, S&P 1,420, Nas 3,200, NYSE 8,300 and Russell 850.  We'll still be watching those 50% lines (see yesterday's post for levels and chart) but it was easy money this morning grabbing Nikkei Futures (/NKD) off the 9,500 line in Member Chat and already (8:23) the index is back to 9,550 and, at $5 per point per contract – the Egg McMuffins are paid for.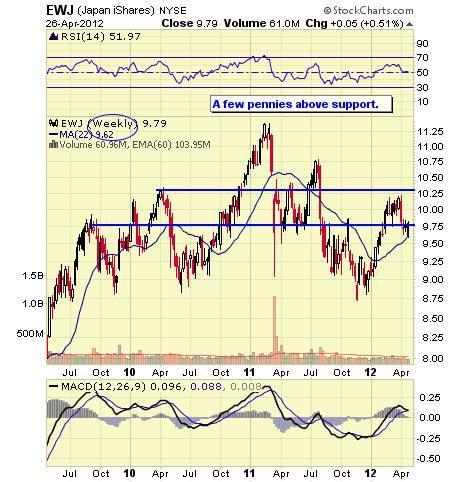 The BOJ dropped 10,000,000,000,000 Yen on the economy this morning, expanding their asset purchase program to 40Tn Yen and it DISAPPOINTED the market and the Nikkei fell from 9,700 to 9,500 but we were up nice and early and, since the other Global Indexes seemed happy enough to ignore Spain's double downgrade (in fact, Spain is up 1% this morning on the bad news), we figured it would only be a matter of time before the Nikkei futures came off the floor to join them
.   
As you can see from David Fry's charts, the Nikkei has been tracking the S&P very closely and the divergence was a bit silly.  What's actually silly is the way the S&P is going but we'll take the quick 50 points and run ahead of the GDP, where we HOPE the markets get a cold slap in the face from a GDP report that I predicted would be a miss from 2.9% expectations.  
8:30 Update:  2.2%!  That is TERRIBLE!!!  Not just a little terrible but TERRIBLE!!!  Business investment is crashing, structures are down 12%, Government spending down another 3%……