Thalgo Collagen EYE Roll-on Claims:
A roll-on product for the eye contours. Very effective for puffy eyes and fine lines or as an anti-ageing product for the eye. Smoothes small and dehydrated wrinkles. Also treats dark circles.
Immediate Effectiveness with 1 movement 3 actions; anti-puffiness, anti-dark circles, smoothing

Roll-on Technology is convenient and fast, promotes the drainage mechanism and lymph circulation and is controlled with precise application

Colourless gel with fresh and lingering floral fragrance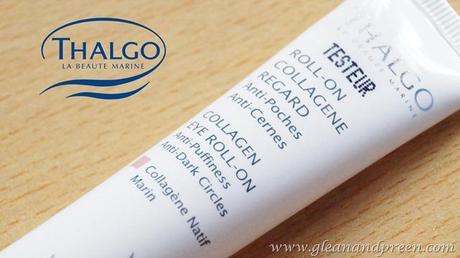 Price:
1700
INR for 15ml
Availability: http://oceamarine.in/
My Expectations from Thalgo Collagen EYE Roll-on: Regular readers of Sagaciously Beautiful must already be aware of my deadly 'Dark Circles'. Well I guess I have dark circles almost since Teenage which worsened over the time due to the irregular sleeping patters combined with laptop/desktop jobs. As my new year resolution I have been working on my irregular sleeping patterns and after 2 months I guess I have improved only by 20%. Well never-mind something is better than nothing but this teeny weeny improvement of lifestyle has not yet shown results on my dark circles. So obviously I had to resort to eye creams.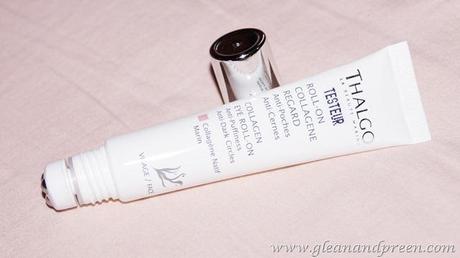 When Thalgo sent the product for review I was tremendously impressed by the 3 ball massaging roll on head. I didn't expect it to fully vanish away the dark circles but expected some soothing relief on less or no sleep days, lighten dark circles and to make the eye area soft and supple. Did it reach my expectations? Read On.....
Look & Feel
Fragrance: It has such mild floral fragrance which reminds me of Ponds/ Nivea cold creams. I just love this refreshing fragrance and because it's very mild I feel it wouldn't bother the sensitive noses as well.
Package: Comes in a plastic flexible tube which gives control to squeeze out only the required amount of product.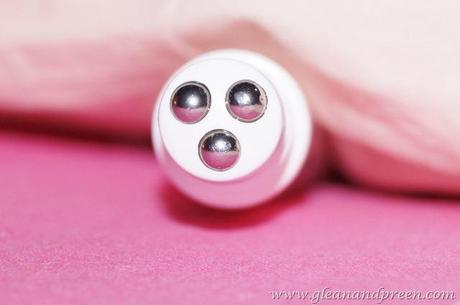 Roll On Ball Head: This is the best part of the eye cream. It has 3 cute massaging balls that offer a cooling sensation when massaged. These balls are very effective in providing gentle massage and relief to the eyes. The size of the head is also perfect to fit into the contours of the eye.
Texture: A non oily water based translucent gel.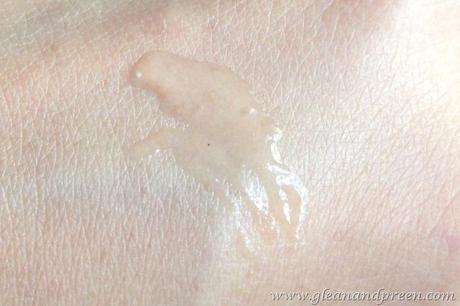 Directions to Use: Apply morning and/or evening from the inner corner of the eye to the outer corner, and then from the temple to the brow-bone. Help absorption of any excess product using light tapping motions. Its effectiveness is increased if it is stored in the refrigerator.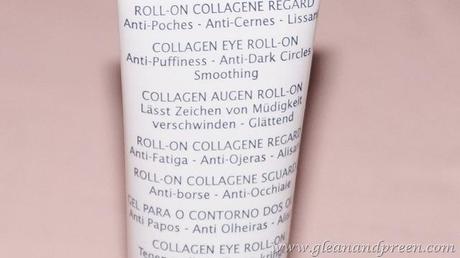 How I Used:
I have applied it around the eye twice a day
Night - I massage using the roll on head for about 5 minutes before going to bed
Morning: I just use a very teeny weeny amount as under eye moisturizer beneath concealer.
On the days when I have to work till late night I store it in refrigerator and keep reapplying it every 2 hours.
Thalgo Collagen EYE Roll-on Effects
Moisturization? It gives thorough moisturization without being oily. Love smooth soft eyes I get by morning. If applied excessively it might feel a little stretchy owing to it's gel formula.
Absorption? It absorbs into the skin in about 1 minute.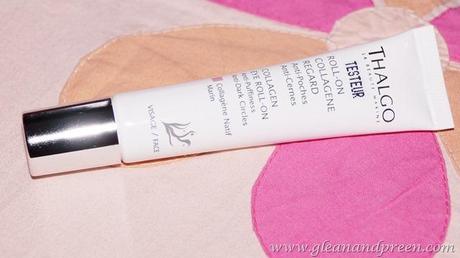 As a Prep Base? I use just a tiny amount under concealer and it provides moisturization without being greasy. But just wait for about 2 minutes for the gel to completely sink into the skin.
Reduces Dark Circles? Oh yes very very much. As mentioned on late night work days I apply it 2-3 times and I must say by morning the darkness is very much controlled. Again sleep is essential so you would still be having tired eyes on no sleep days but not the zombie eyes. Also after 2 months of usage I must say my dark circles have noticeably lightened.
Irritations? None. But yes, if eye creams are not used properly you might end up with puffy eyes. So below is a video on  'How to Use Eye Creams to get maximum benefits'
How to Apply Eye Cream for Maximum Benefits
Cost Efficiency? If you have very bad under eyes then this is totally worth the money spent.
Final Note
  I am absolutely impressed with this Collagen EYE Roll-on as it does control my biggest problem: 'Dark circles on bad Sleep Days'. It  soothes tired eyes and is very effective in lightening the dark circles along with providing gentle moisturization. Totally recommended.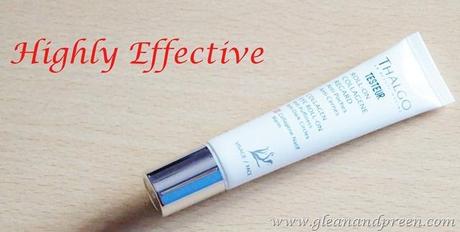 Dear Readers: Let me know your opinion about "Collagen EYE Roll-on" in the 'Will You Buy It' section and share your feedback about the review through comments.
Disclaimer: The product was sent by Brand PR for consideration, however this has not affected my opinion in any way. All the views presented are honest based on my personal experience.