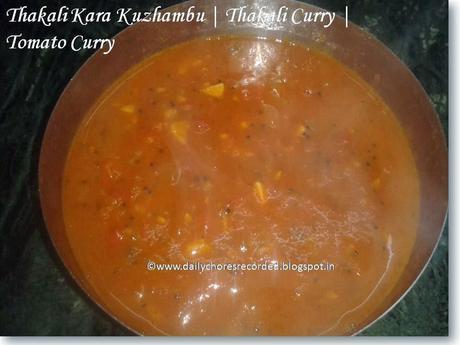 Thakali Kara Kuzhambu | Tomato Curry | Thakali Curry
Thakali Kara Kuzhambu is a tasty South Indian dish a typical Tamilnadu style curry for Rice. I made this for todays lunch and am planning to try more Kuzhambu varities. The Thakali Kara Kuzhambu was paired with Cabbage Poriyall and Rice along with papad.
Ingredients:
Tomato- 5
Onion- 1 
Garlic- 20 pods
Red Chilly- 2
Chilly Powder- 1 tsp
Sambar Powder- 1 tsp
Salt- as per taste
Turmeric Powder- 1/2 tsp
Asofetida- 1/2 tsp
Tamarind- 1 medium ball
Mustard- 1 tsp
Oil- 2 tbspWater- 200 ml + 100 ml
Method: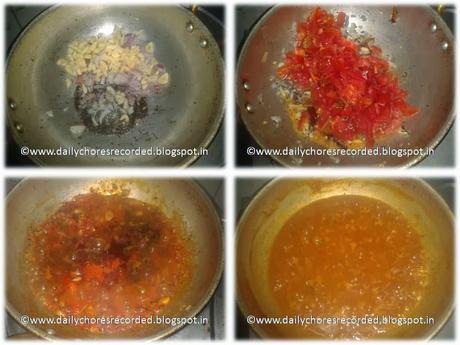 Finely chop onion, garlic, tomato.Soak tamarind in 200 ml warm water.Heat oil in a kadai.Add mustard and let it crackle.Add onion and garlic and fry well till onion is crisp and garlic is well roasted.Add tomato, salt and cook till tomato is well cooked and mashed up.Add chilly powder, turmeric powder, sambhar powder and add 100 ml water and cook for 2 minutes.Add tamarind extract by well mashing the tamarind in the soaked water.Let it boil for 2 more minutes.Put off flame and transfer to serving bowl.Serve hot with rice and
cabbage poriyal
.