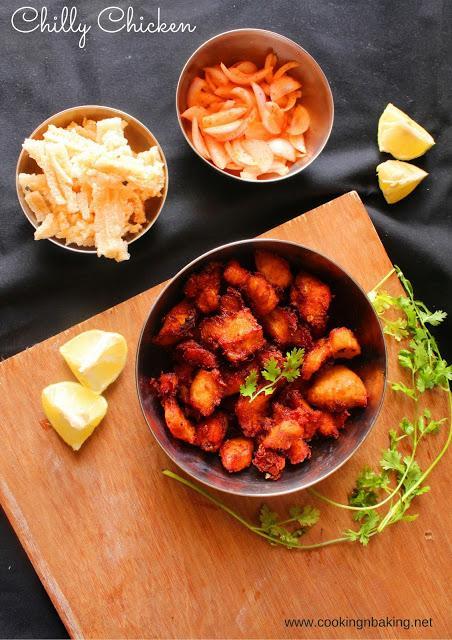 A simple boneless chilly chicken with homemade masala mix. All time family favorite menu.

Ingredients:
Boneless Chicken- 500 g
Chilly Powder- 1 tbsp
Salt- as per taste
Ginger Garlic Paste- 2 tbsp
Corn Flour - 2 tbsp
Lemon juice- 1 tbsp
Oil- for deep frying.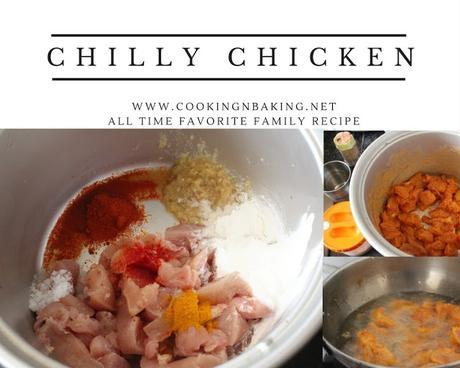 Wash and clean Chicken pieces.
Squeeze the washed chicken well and place it in a bowl.
Add cornflour, ginger garlic paste, salt, chilli powder and a pinch of red food color.
Marinate them well.
Let the mixture sit for 30 minutes.
Heat oil in a kadai.
When oil is hot enough, deep fry marinated chicken until crisp (10 minutes)
Drain excess oil and pour lemon juice over and give a quick toss.
Serve hot with Mushroom Veg Biriyani and Salad.
Squeeze out excess water off chicken after washing or the marination will not bind good.
Let oil get heated up well but do not let it reach smoking point.
If you want the chilly chicken to be red, add food color or a teaspoon of beet juice.