Okay, so weekends are absolutely the WORST, for my diet! And this one even more so since we were in Pune, (a city 2 hours away from Bombay) for a birthday reunion with my husband's family. The healthiest thing I ate this weekend was  my spring Saturday salad! After that… well, the less said the better. But totally worth it!
Mutton cooked in the traditional Maharashtrian way, with loads of spices, Chicken Kheema or Mince, Pandhara Rassa or White Gravy, which is Chicken or Mutton stock seasoned with spices, poppy seeds, cashew & coconut milk… I'm going to stop here as I'm practically drooling over my laptop!
And did I mention I snuck in a couple of Gulab Jamuns, dumplings made with Khoya (solids from freshly curdled milk), deep fried & dunked in a light, sweet, saffron tinged syrup?
Oh I sinned this weekend

Well as usual I had to atone for the excesses on Monday, with another Salad just like last week!
I love Thai food, with its fresh, light ingredients, the sweet, sour, spicy & salty flavours all bursting in your mouth at once… it's like an Oriental carnival.
One of my fave Thai dishes is Som Tam or the Green Papaya salad.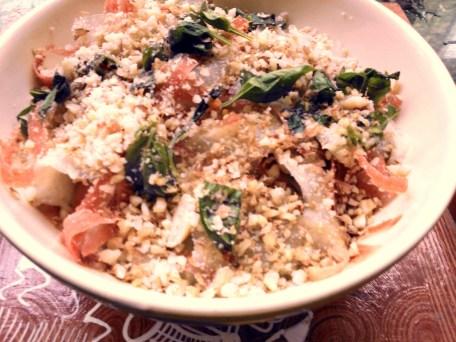 And that's what I felt like having today. I didn't have the key ingredient… the Papaya! So once again I improvised. Here's my take on Som Tam using Whatever's in the Fridge!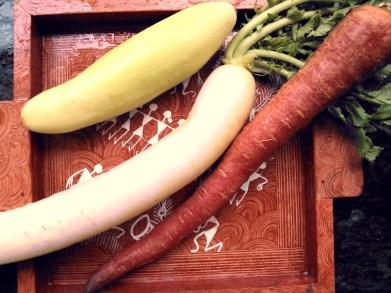 Ingredients
1/2 Cucumber

1/2 Carrot
1/2 White Radish
Crushed Roasted Peanuts
Basil Leaves (finely chopped)
Use a peeler to scrape out the veggies into pretty little ribbons.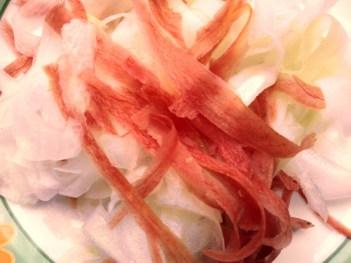 Dressing
Soy/ Fish Sauce

Honey
Chilli Flakes
Tamarind Water
I tasted my way through the dressing. The thing is to find the perfect balance of the 4 flavours for you.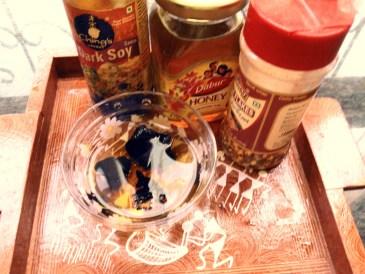 Putting It Together
Arrange the veggie ribbons in a bowl.

Drizzle the dressing over it.
Garnish with the crushed peanuts & basil.
Serve cold
I have made a version of this adding left over prawn. You could also add tofu.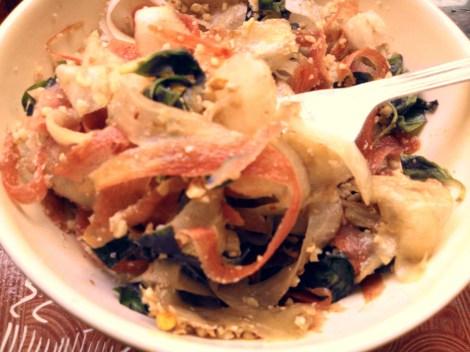 This recipe feeds 1 errant girl on a diet who indulged this weekend (but doesn't regret it one bit)