Mondays generally suck, so lets celebrate that nonsense! I have a new favorite drink, thanks to SOMA, a local restaurant... the SOMATINI. I recently went there with my niece Ashley to celebrate her birthday. We had one, went and got our nails did, and returned afterwards for a second.  I am telling you they are really that good.  I decided to try to whip one up for myself this evening. Super easy, and they made cooking dinner much more glamourous...
Blend a handful of cherries ( frozen or fresh) with the juice of one lemon and a bit of sugar. Pour into a shaker with some ice and 1 1/2-2oz black cherry vodka (which I didn't have on hand because I never buy the flavor flave stuff, so I say  vodka or gin- still tastes GOOD). Shake and serve with a twist, enjoy. PS... Lime juice would be perfect too. PPS... if you are lazy or don't have a shaker throw the booze and ice in the blender and have it frozen.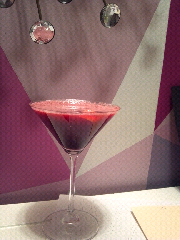 doesn't my phone take amazingly crappy photos????