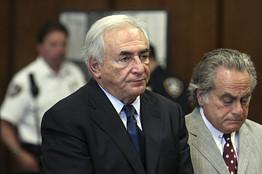 Wow, so much to talk about today.
I'm going to skip quickly over poor Dominique Strauss-Kahn who is now, fairly obviously, the victim of a conspiracy to frame him.  What's the difference now?  Strauss-Kahn was "too soft on Greece" and was focused on ending the bond speculation that he felt was crippling that country (and the Socialist Kahn was also warming up to be France's next President) so he was "removed" from his position and Legarde (a better Bankster ballplayer) stepped in and teamed up with the EU to push the Greek people into debt slavery and, of course, "save" the Banksters from taking any awkward losses writing down Greece's very obviously bad debt.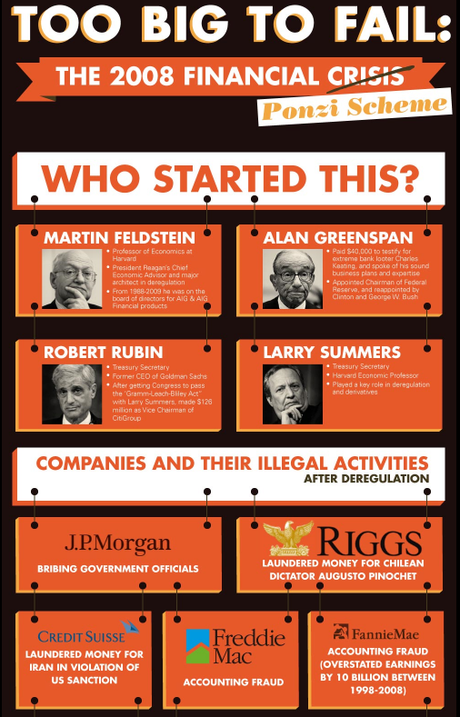 With Strauss-Kahn out of the way they stole Billions here and Billions there and shuffled some money around and now that Greece is "fixed" (on the evening of the day Greece finally gives up and votes to pass the draconian austerity measures) and evening of the same day Legarde is officially sworn in as head of the IMF to replace him – NOW they can let Domique Strauss-Kahn off the hook.  How kind of them – I guess they could have had him killed – instead of just killing his reputation.  
Of course the timing of Kahn's exoneration is no more coincidental than the timing of his arrest (he was on his way to chair the IMF's vote on Greek aid) so I guess it could all just be one of those funny coincidences - they happen all the time, right?  The media had Strauss Kahn lined up for the lynch mob on May 16th (while one article, ratcheted up the fear of a Greek default that was a "virtual certainty", allowing JPM and other Banksters to make Billions buying Greek Bonds at over 20% interest rates – BRILLIANT!).  
Speaking of JP Morgan – Now that Greece has been destroyed, where will they move the Death Star next?  Well, whichever nation will be next to fall under the Bankster death-ray, JPM along with MS and the fabulous Koch Brothers took a little detour this week and stopped to buy up the oil that is being released from the Strategic Petroleum Reserve.  That's rignt, according to Bloomberg, the 30M barrels of oil that is being released from the SPR may go right back into the hands of the same speculators we were trying to get rid of!  
Representatives of trading companies including JPMorgan Chase & Co., Morgan Stanley (MS), Hess Trading Company and Koch Supply & Trading LP joined Valero Energy Corp. (VLO) and Statoil ASA in questioning Energy Department officials June 28 about shipping options and requests for waivers of the Jones Act.  The Jones Act restricts the shipment of goods between U.S. ports to American-flagged vessels. Most oil is shipped on foreign-flagged vessels.  A lack of American-flagged vessels of adequate size means a buyer of SPR oil who wants to store the oil may require a waiver of the Jones Act.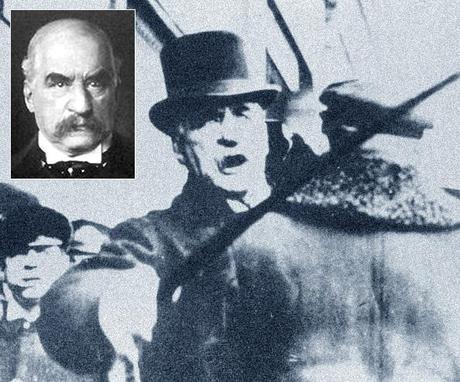 Isn't that special?  As you can see from the Ponzi Summary (thanks Barry and CLICK CHART for much bigger, longer version) above – how many times do we have to get screwed over by THE SAME PEOPLE before we wise up as a nation?  I mean, come on people – JP Morgan has been beating poor people with sticks since the 1800s – when are we going to stop letting them?  
Meanwhile, yet another Central Banker gets a payday from Goldman Sachs as the fifth-biggest U.S. bank by assets said yesterday it hired Bank of England economist Andrew Benito after recruiting Huw Pill from the European Central Bank in May and Naohiko Baba from the Bank ofJapan in January. Moving in the other direction, Ben Broadbent, Goldman Sachs's ex-chief U.K. economist, started at the Bank of England last month. Former vice chairman Mario Draghi will take up the presidency of the ECB in November.
Why the sudden cash and personnel flow to the BOE?  Perhaps because the Securities and Exchange Commission sued Goldman Sachs last year for misleading investors in a mortgage-linked investment that was sold in 2007. Then British Prime Minister Gordon Brown said the firm's employees showed "moral bankruptcy" amid calls to ban the company from government work in the UK. Goldman Sachs paid $550 million in July to settle the SEC's civil claims (because money fixes everything in the US) and is now "fixing" things with the BOE.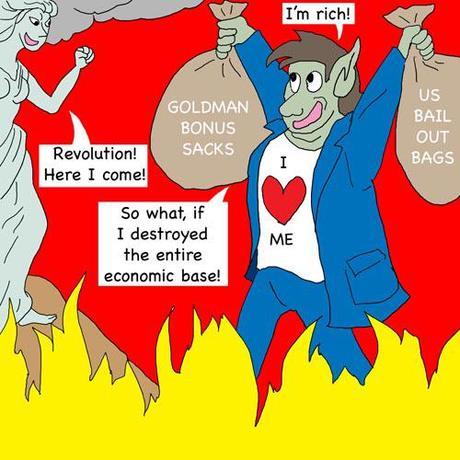 Broadbent is the third Goldman Sachs alumnus to sit on the Bank of England's Monetary Policy Committee since its creation in 1997. In his first vote on policy in June, he sided with the majority choosing to leave the U.K.'s benchmark rate unchanged. Former MPC members David Walton and Sushil Wadhwani also had Goldman Sachs on their resumes before joining the central bank.  Bank of Canada Governor Mark Carney and Fed Bank of New York President William Dudley both previously worked for Goldman Sachs as did countless others (see chart). Former U.S. Treasury secretaries Robert Rubin and Henry Paulson ran the bank before entering government, helping to earn the company the nickname "Government Sachs." (picture by Elaine at Culture of Life News) 
I mentioned yesterday that Charles Hugh Smith wrote an excellent article pointing out that "The US is a Klepocracy, Too" and, of course, I was making that point in my own subtle way in Wednesday's post, so we don't need to go over ALL of the BS manipulation that's going on at the moment – suffice to say we followed through on our plan to get short yesterday afternoon and, although today is likely to hold up – it's next week that has us REALLY worried as we still can't quite figure out why we're up in the first place other than, of course – window dressing, which really isn't a good reason to go long-term bullish, is it?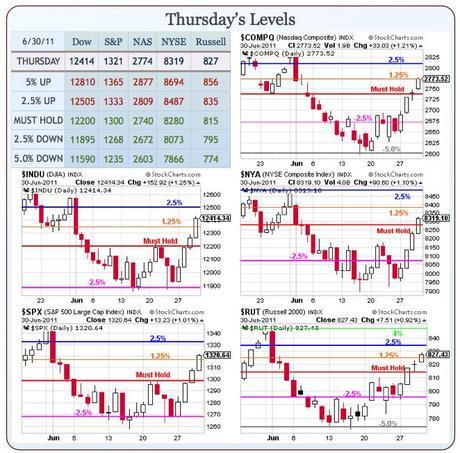 This morning in Member Chat, we already shorted the Russell futures (/TF) at 825 and oil futures (/CL) at $95.50 and both of those bets are moving along quite nicely at the moment (9 am).  We'll see how much unwinding we get today – often the first day of the money is bullish but it's hard to be MORE bullish after a week of such total BS in the markets.  
It's all about the Dollar, of course and whether we go over 74.80 (bad for stocks and commodities) or under 74.60 (good for stocks and commodities) although, this being a Friday with weekly expirations, we may just flatline into the close to burn all the suckers who bought puts and calls.  Watch the Pound during EU trading, if they blow $1.60 – it will be time to get more bearish.  
In yesterday's morning post I said: " I'm sure that's what the Banksters WANT to see for today's close (just over our 1.25% lines) but that would be one crazy move on the day" and, as you can see from the Big Chart – that EXACTLY what happened – isn't that special?  Remember, we don't care (from an investing point of view) IF the game is fixed, as long as we can figure out HOW the game is fixed and place our bets accordingly.   
I also mentioned in yesterday's post (you do subscribe to our daily Report Membership, don't you?) that we'd be shorting oil at $95 again and, as I'm writing this, oil just hit goal at $94, which is a $1,000 profit per contract in the Oil Futures (/CL) in 24-hours.  With 311,066 contracts still open on the NYMEX (82% of which changed hands yesterday), that was a $311M opportunity – good enough to pay for us to gas up the Range Rover for the holiday weekend!  So we take that money and run ahead of the open and we'll just see what happens with oil as the day moves on.  Gasoline (/RB) is back down to $2.92 at the NYMEX open and that now makes a fun BULLISH trade over that line (with tight stops below) as it's VERY likely they jack it back up to at least $2.95 into the weekend and a .04 move is worth $1,680 per contract.  
So let's go have some fun!  We're pretty much cashed out with speculative shorts (short-term trading, long-term we're still perversely bullish but very hedged) and our $25,000 Virtual Portfolio is now cashed out with $50,000 after 5 months and we'll be going for $100,000 starting next week so plenty of fun ahead. 
Until then, have a happy, healthy, wealthy Holiday, 
- Phil
Tags: GS, IMF, JPM, MS, Strauss-Kahn, USO

This entry was posted on Friday, July 1st, 2011 at 8:08 am and is filed under Immediately available to public, Uncategorized. You can leave a response, or trackback from your own site.
Do you know someone who would benefit from this information? We can send your friend a strictly confidential, one-time email telling them about this information. Your privacy and your friend's privacy is your business... no spam! Click here and tell a friend!