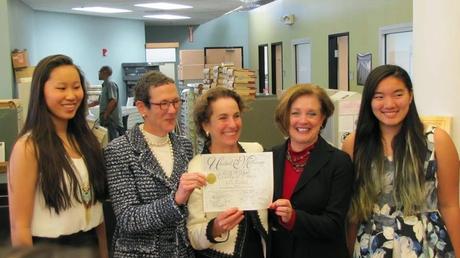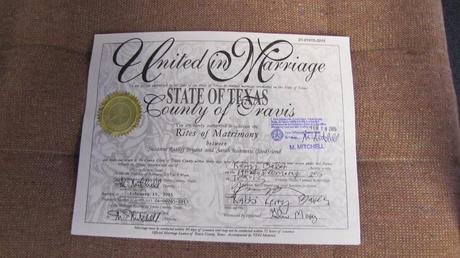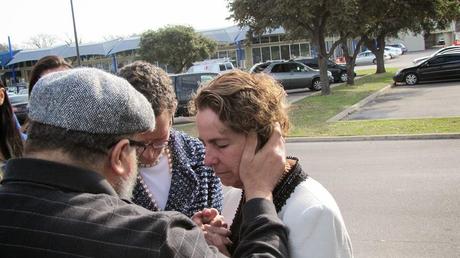 A San Antonio federal judge ruled that the same-sex marriage ban in Texas was unconstitutional. That happened a couple of months ago, but that judge stayed his decision to allow the state to appeal to the 5th Circuit Court of Appeals. That meant same-sex couples could still not get married legally in Texas.
But that wasn't good enough for Sarah Goodfriend and Suzanne Bryant, who have been a couple for the last 31 years. They petitioned District Judge David Wahlberg in Travis County to order the Travis County Clerk to issue them a marriage license -- saying that the marriage ban causes them irreparable harm (since Goodfriend has been diagnosed with and treated for ovarian cancer. On Thursday morning the judge agreed, and ordered a marriage license be issued to the couple.
The couple got their license, held the marriage ceremony immediately in front of the Travis County Courthouse, and went back inside and registered their marriage. That made their marriage legal, and it made them the first same-sex couple to be legally married in the state of Texas -- truly a landmark occasion.
Attorney General Ken Paxton immediately went to the Texas Supreme Court and got that court to issue a stay preventing any other judges in the state from doing the same thing -- and he also said he would be seeking to void the couple's marriage. I doubt he can do that though -- and I'm not at all sure the state's Supreme Court can issue orders to any federal judges in the state.
It doesn't really matter though. In a few months, the United States Supreme Court will issue a decision on the constitutionality of those same-sex marriage bans, and it is expected that at least 5 justices will vote to overturn those bans. At any rate though, the ban has been broken. Texas now has a legally married same-sex couple -- and they have the license and registration to prove it. Thursday was a great day for equality in Texas.