NYDailyNews: A Texas man caught on camera spitting at a woman's car and threatening her during a terrifying road rage incident has been charged with reckless driving. Rashaad Ben was driving down an Austin highway earlier this month when he allegedly started veering aggressively from lane to lane and trying to run others off the road, according to KVUE.
Julie Nowlin, 39, saw what he was doing and went to record his license plate on her cell phone.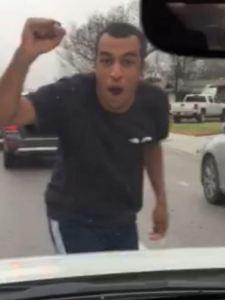 But Ben
soon realized he was being filmed
, and jumped out of his car when the traffic slowed down. He approached Nowlin's vehicle — and was recorded calling her a "b***h." The 23-year-old also spat on her windshield,
called her a "white b***h,"
and raised his fist while saying
"F*** you, black power."
Nowlin, whose 4-year-old daughter was in the back seat, tried to drive away. But her pursuer chased her around the neighborhood. The petrified mom dialed 911, and later lost Ben. She then went and hid in a Starbucks for two hours before cops arrived.
"I was just running for my life, I didn't know what to do," she told KVUE.
Nowlin posted the shocking clip online, which sparked a flurry of responses from other locals who all claim to have endured similar behavior from Ben. The driver was tracked down and arrested, and now faces a reckless driving charge.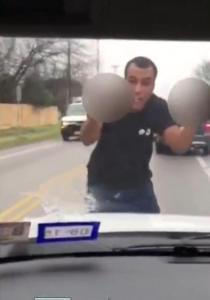 It later emerged that he's previously been busted for drunk driving, marijuana possession, theft, resisting arrest and driving with a suspended license. And just last month he paid a fine to settle an incident where he spat in a woman's face, reports The Smoking Gun.
If convicted of his latest alleged crime, Ben — who's since apologized for his actions — faces up to 30 days in jail. "I came here to apologize to my family and Mrs. Nowlin and to the community for acting the way I did and for my obscene language and obscene behavior," he told KVUE.
"To not let your anger get the best of you because it could get you in trouble or it could have someone hurt. And to just let things go. It's not that serious," he added.
DCG