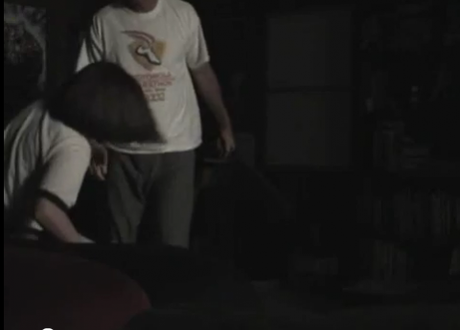 Still from the YouTube video of William Adams beating his daughter, Hillary.
A judge in Texas is facing both a police investigation and the court of public opinion this week after video of him beating his disabled daughter with a belt went viral.
Hillary Adams, now 23, was 16 in 2004 when she secretly recorded her father, William Adams, lashing her back and legs 17 times with a belt and threatening to beat her "into submission", while her mother yells at her to "take it" "like a grown woman" as she cries. The beating was ostensibly because Hillary had been caught by her parents downloading pirated content on her computer. Hillary, who suffers from ataxic cerebral palsy, told The Associated Press that she posted the nearly 8-minute video on YouTube last week not out of revenge, but because she hoped that it would make him seek help – and because he continues to harass her.
William, an Aransas County Court judge who, ironically and not a little sadly, handles child abuse cases, defended himself to Corpus Christi's KZTV; he said that Hillary is angry at him because he "ordered her to bring the car back" and adding that his "life's been made very difficult over this child". Said William, "In my mind I have not done anything wrong other than discipline my child when she was caught stealing. I did lose my temper, I've apologized… it looks worse than it is."
It looks pretty bad.

Now, after the video has been watched more than 1 million times, William is the subject of a criminal investigation and the Aransas County Courthouse has had to bring in extra security owing to the death threats the judge is currently receiving.
Don't Re-Elect Judge William Adams. Internet retribution has been quick – not only is William receiving death threats and the Aransas County Court receiving hundreds of angry calls and emails, but a Facebook group has also sprung up, claiming that William is "unfit for his duties". Don't Re-Elect Judge William Adams has already attracted more than 18,000 fans.
Shocking – but is it criminal? The video is indeed tough watching, and court of public opinion may have already condemned him – but investigators may find that what William did wasn't criminal, The Associated Press reported. The news agency spoke with David Finkelhor, a University of New Hampshire sociology professor who heads the school's Crimes against Children Research Center, who said that the legal difference between child abuse and discipline differs across states. Usually, however, the use of weapons such as belts is considered crossing the line.