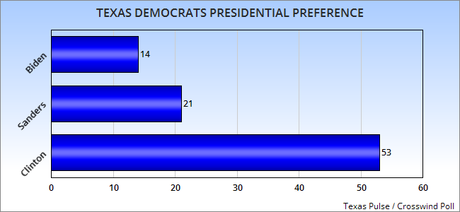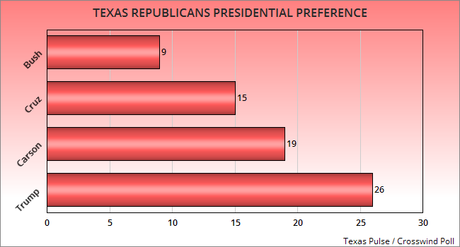 It's been a while, but we finally have a new poll on Texas preferences for the party nominations. It is the Texas Pulse / Crosswind Poll. It was done between September 11th and 14th of a random sample of 1,000 Texas voters, and has a margin of error of 3 points overall. No margin of error was given for just Democrats or Republicans.
For the Democrats, Hillary Clinton has a big lead of 32 points over Bernie Sanders -- besting him by 53% to 21%. And that's with Joe Biden considered to be a candidate. The lead for Clinton would most likely increase (as it does elsewhere) if Biden is taken out of the mix.
On the Republican side, Donald Trump has a 7 point lead over Ben Carson. The real story here is how poorly Jeb Bush is doing, considering his family's strong ties to the state.