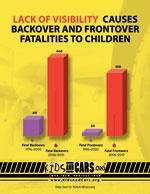 The tragic accidental death of a 4 year old boy in Texas reminds us of the dangers of children in and around automobiles.  The boy's father arrived home from work around 6:30 p.m. where his son was playing in the front yard. The father stopped his truck in the driveway and had a conversation with his son through the passenger side window. The father watched his son back away and then proceeded to pull his truck forward and turn into the carport attached to the back of the home.  As the father turned into the carport, he realized he had run over something and found the child motionless behind the truck.
The child was taken to the emergency room but pronounced dead and head injury was listed as the cause of death. Investigators took blood samples from the father and it appeared that alcohol was not a factor. Authorities believe  the child approached the truck as it turned and was knocked over by the rear fender before the rear wheels passed over him.
Accidental death by a parent is not common and incredibly difficult situation in which to cope, for all involved.  Running over your own child is a parent's greatest nightmare.  According to the article, first responders and the law enforcement working the accident were greatly affected.  "Anytime that you work the death of a child or a serious injury to a child, you can't help but personalize it and think about your own children and your own grandchildren", said Sheriff Chris Kirk.
"As you can imagine, this family is devastated, and it is a tragic situation and, at the same time, probably preventable," Kirk said. "You just have to be cognizant at all times about where a child is … It is just an unfortunate circumstance."
KidsAndCars.org, a Kansas City-based organization that promotes awareness and tracks non-traffic incident in or around vehicles that kill or injure children in the US say that 12 children have died in frontover or backover accidents in Texas so far this year.  Across the country, 74 child fatalities have occurred this year.  SaferCar.gov sponsored by the National Highway Traffic Safety Administration advices all drivers to walk around their vehicles before backing out and checking for children or items that could attract children.  They also suggest that driver of larger vehicles roll down their windows to see what is going on outside.  Blind zones for pickups and SUV's can be as large as 8 feet in front and up to 50 feet behind the vehicle. KidsAndCars.org provides many safety tips that are helpful to all drivers and especially parents and caregivers of small children.
Accidents such as these are almost unthinkable, yet can happen to the best of parents.  Backovers, rollovers can happen to any driver and requires more time and attention to be sure you are not endangering a child.  KidsAndCars.org tracks injuries and accidents including children left in cars in heat and cold.  Reviewing their site and helpful information gives all of us helpful information that you may or may not have thought about before.
As a parent of two small children, the story above is one of my nightmare's come true as it is for all parents. The thought of accidentally injuring or being the cause of your child's death is unfathomable.  Tragedies like the death in Texas should serve as a constant reminder to work at child safety for all children and not just your own.
Why talk about such a tragedy? Certainly talking about this tragedy is not easy for the victim's family but when we raise awareness, we can work to reduce these numbers. Hearing about these accidents makes the dangers all the more real for each of us. If raising awareness saves one child's life then it is worth the time and effort.
At The Cagle Law Firm, we like to take opportunities to raise awareness of child safety which is why we are supporters of KidsAndCars.Org. For more information about child safety or to make recommendations/suggestions, we invite you to share on our Facebook page and/or send us your comments and thoughts.
Our attorneys are available seven days a week to assist you if you have been in a car accident or motorcycle accident. We represent seriously injured victims and families who have lost loved ones in accidents. Call (800) 685-3302 or (314) 276-1681 for your free consultation.