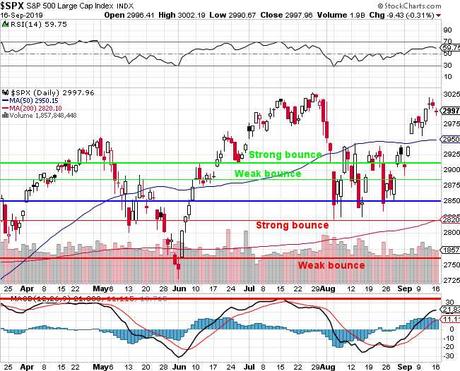 Here we are again.
We re-tested our highs to close last week but they didn't last and we've already failed the 3,000 line – gapping below it with no support.  That is, as they say in the chart schools – not good.  Still, anyhing over the strong bounce line at 2,920 is still long-term bullish and that's still 77 points away or EXACTLY a 2.5% correction from here.  That's at least what we'll see if the Fed disappoints tomorrow.  
Meanwhile, what is the Fed supposed to do since they have no idea what's going on with China Trade, which goes from getting worse to "all fixed" overnight?  Brexit is still up in the air and now we have this additional trouble in the Middle East – these are not things the Fed has control of but they are all things that have serious impacts on the economy.
Wages are rising in the US, Prices are going up – these are reasons the Fed should be raising rates, not lowering them.  The Fed Fund Rate stands at 2-2.25% and dropping it to 1.75-2% isn't going to change people's spending habits or economic decisions.  It won't even do much for Trump, who wants to save money on the interest he pays on $22.5 TRILLION in debt he's run us up to but, even at 2% that's $450 BILLION a year in debt payments and the 1/4-point rate cut saves him $50Bn in interest but it's not savings if Trump turns right around and spends it on something else.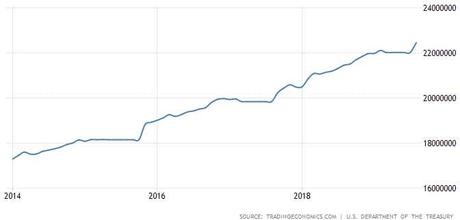 Trunp has added over 10% to the entire National Debt of the United States in just 2 years (the 2016.5-2017.5 budget was still Obama's).  You can see the way the budget explodes higher as Trump's tax cuts take effect and he's boosted Government spending, almost all of it military, at the same time – pretty much everything the Republican's used to run against…  
You can like or not like his reasons but the math says that if Trump continues at this pace, we'll be $24.8Tn in debt by the time his 2020.5-2021.5 budget runs it's course and 4 more years of Trump's policies would take us to $30.2Tn – 150% of our GDP in debt.  Trying to force the Fed to cut rates to zero allows Trump to pretend that debt doesn't matter – but it will matter A LOT to whoever has to clean up this mess, after he's finally gone.
And, of course, if we start a war with Iran, that will pump up the military budget even further or, if we slip into another recession, then the Government might spend Trillions more like they did in the last one – either way that debt pile is likely to keep growing as long as we pretend we don't need to collect taxes from the people who have money to pay for all this spending and yes, that is exactly as ridiculous as it sounds.
We're pretty set on taking advantage of this re-visit to the Top to cash out our Member Portfolios – it's just not worth the downside risk at this point.
Do you know someone who would benefit from this information? We can send your friend a strictly confidential, one-time email telling them about this information. Your privacy and your friend's privacy is your business... no spam!
Click here and tell a friend!