It's time to try
Defying gravity
I think I'll try
Defying gravity
And you can't pull me down!
Here's the problem with the markets:  
We're at the point where they simply can't fake this thing any higher.  We've passed any credible stock valuations, even for superstar companies like AAPL and companies like NFLX, TSLA, AMZN, etc. are at ridiculous levels as well.  The resources that are required to maintain the market bubble grow exponentially larger as the bubble grows and expanding the bubble further becomes, at some point, an impossible task – no matter how inspirational your song and dance number is.  
You can fill a pool with water the same way you fill a market with money but, at a certain point, the pool is full and all the water in the World isn't going to bring the level any higher.  All the extra water you keep pumping in is just wasted and spills off the sides and, in fact, begins to cause dangerous damage to the foundations.  That's what all this money-pumping is doing to our markets now – the markets are full of money, back at all-time highs – so why do they keep pumping more and more water in?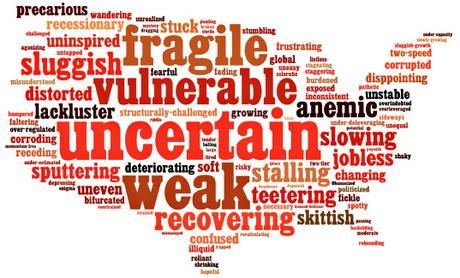 They do it because the pool has a leak and our economy has a leak (recession) and they fear that, if they stop pouring money in, the levels will quickly begin to drop again and people will see the leak for what it is and panic or, even worse, tell them to stop wasting water filling the pool and actually fix the leak instead.
That's not what "THEY" want to happen because "THEY" are the guys who stand at the sides of the pool with buckets and collect the spillover.  "THEY" have no intention of fixing the leak because the leak is why free money is being constantly poured into the economy and "THEY" love the free money.  

As traders, we LOVE the manipulation.  This morning our Members caught the drop in the Russell Futures (/TF), then the bounce and then another drop – all between 5:45 and 6:45 in our Live Member Chat Room.  We also cashed in last week's long play on gold (/YG Futures) as we topped out over our $1,200 goal yesterday, a top I called right on the button yesterday at 9:58 for our Members and on Twitter (you can follow me here).  This morning we caught another long off the $1,188 – the same line we used last week and we caught a pop to $1,195 for a quick $232.40 per contract gain.  Futures trading is fun!  We have another Live Trading Webinar at 1pm, EST today (Members Only). 
As is often the case on Tuesdays, we'll be testing some critical levels today.  In this case it's the 50-day moving averages on the Dow (18,020), S&P (2,100), NYSE (11,093) and the Russell (1,250) two of which (NYSE and Russell) have already failed and MUST get back over or the pressure on all the indexes will remain firmly to the downside.  What happens when you have a hole in your pool and, instead of fixing it you keep pouring in more water?  The hole gets BIGGER!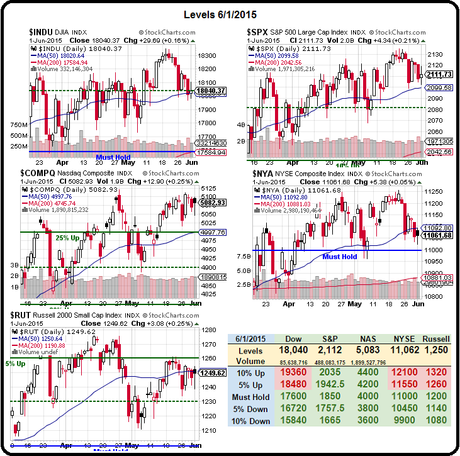 As long as those Must Hold lines continue to hold, we're still in a generally bullish market and all this is just healthy consolidation above the lines.  Those Must Hold lines were our predictions for the end of 2015 and we exceeded them but we predict 2016 will be flat to down overall so we haven't changed our lines (they were drawn in mid 2014) just because the year changed and certainly not just because a hyper-stimulated market inflated the PRICES (but not the VALUE) of many stocks.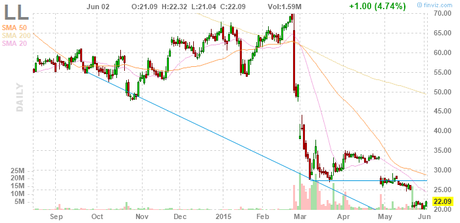 Not all stocks, of course.  We've added quite a few long positions to our Long-Term Portfolio in the past month and we sent out 9 Top Trade Alerts during the month of May featuring 15 stocks we still thought were cheap enough to take bullish positions on.  I have to work on our next Top Trade Review but it would be hard to top April's performance where our February picks (we wait a quarter to let the positions play out) were almost all winners.  Our first March Top Trade idea was for LL, which just hit our planned double down line at $20:
Those LL 2017 $40 puts ended up selling for $12.50 once trading began (about 11) and are still there now for a net $27.50 entry and the 2017 $35s dropped to $13.50 and the $55s are fetching $6 so net $7.50 on the spread is about what we were looking at but with a short $12.50 on the $40s, it's now a net $5 credit, which drops the worst-case net entry to $35 so let's do 5 in the LTP so we can see how it goes.   The potential upside is $10,000 at $55 vs owning 500 shares at net $35 ($17,500) and, if they drop 50% more ($20) – we're happy to DD.
We already made the move in our Long-Term Portfolio, we left the 5 short $55 calls (now $1.85) and we rolled the $35s down to the 2017 $15 calls (now $8.50) and doubled down to 10 longs there.  We also rolled the 5 short 2017 $40 puts to 10 short $25 puts (now $10.60) and we're hoping to see at least $25 before we consider selling more calls to cover the position.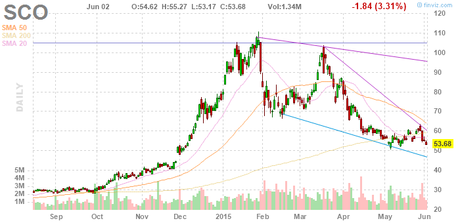 That one's a loser (so far) but that makes it a good entry opportunity as a new trade as we still like the premise.  Fortunately, our second Top Trade Idea was the ABX March $10.50/11 bull call spread at 0.32, which finished at 0.50 11 days later for a nice 42% gain.  The next Top Trade Idea was also a huge winner as we took a short position on the ETF that's Ultra-Short on Oil (SCO) when it hit $103, selling 3 April $110 calls for $10.50 ($3,150) on our Short-Term Portfolio along with 3 March $105 calls we had already sold for $5.40 ($1,620).  Needless to say, we made 100% on those ($4,770).  
That same day, we sent out a second Top Trade Alert to go long on Oil Futures (/CL) at $44.25.  With oil back over $61, each one of those contracts is now worth $16,750 but we took the money and ran at $60 ($15,750), because we're not greedy…
  We liked oil so much at that price ($44.25) that we also had a Top Trade Alert the same day to grab a UCO $5/9 bull call spread with the short $5 puts for net 0.35.  UCO since reverse spilt 1:5 so we're in the $25/45 bull call spread at net $1.75 but still on track for a nice $20 return if SCO stays over $45, which will turn $1.750 on 10 contracts into $20,000 (up 1,042% on cash).  
So no complaining about the manipulation today – bring it on!  
Do you know someone who would benefit from this information? We can send your friend a strictly confidential, one-time email telling them about this information. Your privacy and your friend's privacy is your business... no spam! Click here and tell a friend!