Perhaps the the moves up in fellow 4-letter stocks like PCLN ($25Bn market cap), NFLX ($13Bn), OPEN ($2.5Bn), BIDU ($50Bn) and GMCR ($9.4Bn) don't seem quite so crazy in light of the 40% reduction in AAPL ($314Bn) – take the money out of one bucket and you HAVE to fill up the others!  
This does make me feel better as there may actually be a rational reason for NFLX having a p/e of 82 despite the fact that they have a completely indefensible service that already has competition from several on-line clones as well as big boys like AMZN, not to mention every cable and satellite company in America.  Why does WFMI, a GROCERY STORE, trade at 41 times it's projected 2011 earnings in the middle of the worst food inflation in US history?  It's not just because rich people are stupid and will overpay for anything because they hate to have people think they can't afford stuff – it's because their market cap is $11.4Bn and if you take 40% of AAPL's $300Bn and distribute it around the Nasdaq – then WFMI get's $1.2Bn of additional allocation.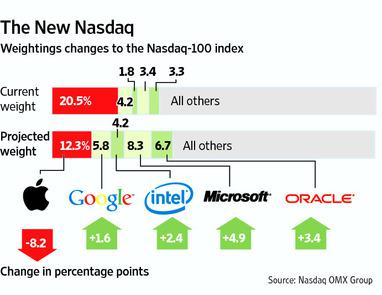 That's not exactly how it works but that's the effect.  A $1Bn Index fund who follows the Nasdaq has $205M of AAPL stock
(20.49%)
and, after the reweighing, they are to have $123M of AAPL stock.  The other $82M does, in fact, get distributed to the other Nasdaq stocks according to the new weightings.  Do you think that doesn't distort the markets?  Of course, that doesn't "just" affect the Nasdaq – AAPL is a heavyweight in all the indexes
.  
The special rebalancing of the NASDAQ-100 Index will be enacted based on index securities and shares outstanding as of March 31 – now it is very clear why the MoMo stocks were jacked up like crazy into the end of Q1 – now the market manipulators have guaranteed bagholders for their stocks come May 2nd!  On that date, they KNOW what the weighting will be and fund managers will be forced to buy more PCLN, OPEN, BIDU, NFLX, CMG, etc – regardless of their actual merit.  They will take these bloated monstrosities off the hands of the IBanks who have been pumping them at top dollar and then – look out below as there is no actual reason for any of these guys to trade at their nose-bleed multiples.  
We have been snapping up INTC on the way down and now we will snap up even more as we THOUGHT it was a pointless shake-out but now we can see it was a shake-out with a major point as INTC is going to double up in weighting, as will MSFT and ORCL.  MSFT was also on our shopping list yesterday (our weekend pick) so things are going to get interesting in the next few weeks and very interesting as we roll over into May.  Notice on the chart that virtually all of AAPL's losses actually transfer to the Big 4 and NOT to the MoMo boys – we'll see how quickly that party ends but I'd be jumping off that train RIGHT NOW!  Notice that "all others" will, on the whole, carry less weight after the rebalance, not more.  The Nasdaq will remain very much controlled by AAPL, GOOG, INTC, MFSF and ORCL with a combined 37.3% of the indexes weighting.