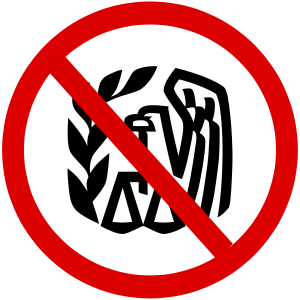 Anti-United States Internal Revenue Service symbol. Commonly used by tax protesters and tax reform advocates in the United States. (Photo credit: Wikipedia)
Don't watch this video if you're planning to go to sleep anytime soon.  It's infuriating and likely to make you too mad to sleep.
The people in this video routinely refer to these raids as "paramilitary-style".  They're right.  But more precisely, what we're really seeing is evidence of Terrorism conducted by government.   The government doesn't fight terrorism; it should be prominently featured on its own list of terrorist organizations.
The sonsofbitches conducting these raids don't belong in the free world.  In their hearts, they are nothing but Nazi thugs.  Every goddamn IRS agent who participated in this terrorist raid should be charged with "making terrorist threats" and jailed.  Every goddamn IRS agent, government official or judge who approves of these unconstitutional, terrorist tactics should be tried for treason and, if found guilty, hanged.
video
00:21:48