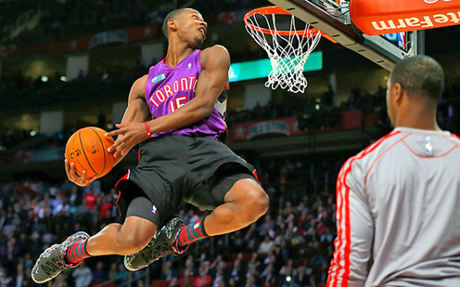 If you're a basketball fan or a Toronto Raptors fan you know by now that Terrence Ross won the Sprite Slam Dunk contest at All-Star Saturday Night in Houston. It was great to see as a Toronto fan and the 1st time since Vince Carter that the Raps roster includes the dunk champ.
Now, with that said – I believe that DeMar DeRozan should have been a winner when he was dunking on national TV – but he didn't.
In fact, 2 years ago today I wrote a post for FanShots.com remembering Vince's 2000 dunk display and included this:
1. Blake Griffin will probably win the contest.
2. I really want to see DeMar DeRozan put on a throwback Raptors jersey with his name on it and do some of Vince Carter's dunks.
3. Vince might be the best dunker my generation has ever seen.
DeMar didn't put on a VC15 jersey at the 2011 All-Star weekend – and maybe he should have because if we fast forward 2 years – BAM!!!
When Terrence Ross got to the finals on Saturday night and walked onto the floor in a Vince Carter throw back I got goosebumps. It was amazing. I loved it. And I think that we need to put things into perspective.
I know that Vince left on bad terms – but that was a long time ago now.
I know that some fans still hold a lot of resentment towards Vince.
BUT
Remember that Vince Carter put Toronto basketball on the map.
Remember that Vince dunked and we all cheered.
Remember that Terrence Ross was a 9 year old kid from Portland when Vince won the 2000 Slam Dunk Contest.
Terrence Ross doesn't hold the same feelings about Vince that some of us do. Terrence Ross is an NBA rookie who grew up watching Vince throw down HUGE dunks on TV and probably wanted to put his game together with him in mind. I know I wished I could have dunked like Vince – and I was 18 when he won that contest.
So here's what I have to say: I'm happy that T.Ross wore Vince's number 15 out on the floor in Houston on Saturday. I'm even happier that he won the contest. And I hope that we (Torontonians and Raptor fans) will all remember how great it felt when Vince Carter wowed us and won the trophy 13 years ago.
It was a special time – and if we're lucky we might just be coming up on another special time now.
Be awesome!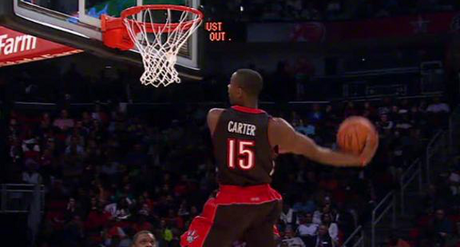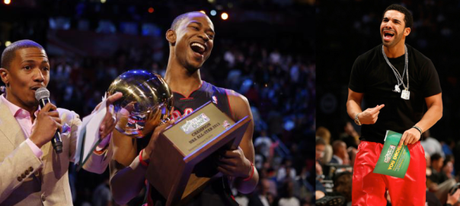 ps. We might not all love Drake or his music – but it's pretty great to have an international superstar showing love for a Toronto team.