While goofing off on facebook the other day, I saw a video clip of a guy who heated his room with terracotta flower pots sat on top of a bread pan. Inside the bread pan was three or four tealight candles . 
I was very intrigued and hunted down two terracotta flower pots, one small and one larger... then promptly couldn't find the video again. Also, my pots wouldn't fit over the pan because the small one was too small.
Instead of giving up, I searched Google for ideas on how to make a Terracotta flower pot space heater. I found this helpful site that explains how it works! In the end, I created my own with what I have because I can't afford to run out and buy things.
Here is what I did...
Creating my own terracotta flower pot candle heater!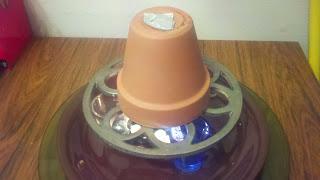 I placed a regular dinner plate on my centerpiece plate on the table. Then I arranged three shot glasses on that and placed a trivet on top of those, lit three tea light candles and put them underneath the trivet.
Then I placed a smaller terracotta flower pot upside down on the trivet, right over the candles and put a small piece of aluminum foil over the hole (since I don't have nuts and washers)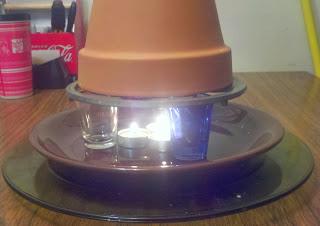 After that, I put the larger pot over the smaller pot and sat back and waited to see what happens. In this picture you can see the shot glasses better and see the candles underneath.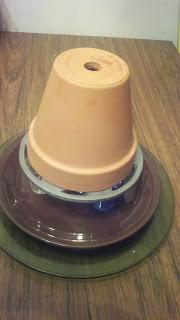 This is what my finished product looks like. Isn't it cute!? But... does the terracotta flower pot candle heater really work?
Does it work?


At first we were making jokes about how it would make a nice hand warmer, not an actual space heater. A few hours later, it was really putting off a bit of heat, enough that I ended up moving away from it and working elsewhere. 

After stepping outside and then coming back in, I can honestly say it warmed up the room some. 

The area in the dining room is down right TOASTY! 

If I had to use it in a power outage, I would probably have four or five of the things throughout the living room area. I would also start them before they say a storm is coming to give them time to warm up. 

But, yes! This really worked. I could see using this to warm up a smaller room. You'd probably need more than one if your room is bigger or if you live in the north. And now for a disclaimer, AKA please don't sue me when you try this and it goes horribly wrong.


Please be careful when using the terracotta flower pot as it does get HOT! By the time I went to take pictures, the top pot was quite warm, while the small pot was entirely too hot to even touch! 

These should be used with caution around children, pets, drunk friends, rednecks, or friends who tend to set themselves on fire (you know who you are!)

Don't go to sleep with your terracotta flower pot candle heater running as it may lead to bad things, like your room getting too hot, or your house burning to the ground.

Please make sure to check your smoke alarm batteries to make sure they aren't dead.

Wash your hands before you eat, after you sneeze or cough, after using the bathroom, and after shaking hands with weird strangers. 


From The Baker's Acres! Read more at http://www.dotchilatham.com