I am a self-confessed TV competition junkie. I love my daily dose of The Chase and binge watch programmes like Bake off, Master Chef, The Great Pottery Throw Down and British Sewing Bee. I am sure millions of others in the Uk are hooked too.
So what's the attraction? Tension. Seeing makers and quiz contestants under pressure to visualise, create and complete their offering within thetime constraints is enthralling. In my favoutite, potters face spot tests and spend days building wonderful pottery. I engage with them. having tried potting myself, I admire thier tenacity and delight in witnessing thier triumps and disasters. I love to see improvemnt and enjoy the tears of a huge hunk of a judge who is often reduced to tears when a potter exceeds his expectations. 
The same with The Chase. It is thrilling to see the underdogs beat the chaser and win the prize money. Tension is a a true narcotic and as a nation we are addicted. 
When  the sewing bee resumes this week, it is not just the sewing machines that need to be under the correct tension. - the conestants and the audience do too. I love it. I did O Level Needlework although I am by no means a proficient sewer, I admire the clever participants who can take a  length of cloth and transform it into a beautiful garment. 
Masterchef is equally exciting. Turning a handful of ingrerdients into a visually stuuning and delicious dish is no mean feat. Having it tasted and judged by the country's top chefs and restaurant critics must be daunting. I love to watch the early rounds and see whether I can predict the ultimate winner. I get very excited, even though I can't smell or taste the food myself. 
I am not big on talent shows.  X Factor. Britains Got Talent and The Voice are of little interest, There are plenty of singer/songwriters out there. Often conestants sound like others. What si the point of that? I am sure that many of you disagree - but how I get my regular 'tension fix' is up to me. I was a competitive Ballroom dancer and spent many nervous hours waiting for adjudicators decided my fate. Had I made the final, had I won a top three place.  Very tense times but worth it if the result was a good one. 
I believe that we need a certain amount of tension to feel alive. Why else would people bungie jump, sky dive or swin with sharks? Are we natrual adrenoline junkes? Perhaps the answer lies in our mutual DNA. We were. after all, hunter gatherers. Perhaps we have an inbuilt need for risk - pursuit by a sabre- toothed tiger may still be inprinted as an inherent trait. 
Tension in poetry is an altogher different animal and one that I have yet to reaearch and develop in my iwn writing. I am grateful that this week's theme has piqued by interest in the subject  and I will pursue the subject with vigour. 
No poem this week. I;ll just leave you with a phot from Throw Down  No spoilers please  I still haven't watched all the episodes in 2021 series.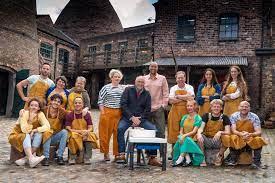 Thanks for reading. Adele
Email This
BlogThis!
Share to Twitter
Share to Facebook