TAKEAWAY: It is presentation day for me today at the WAN IFRA 63rd World Newspaper Congress. I moderate a panel on The Steps Towards a Successful Tablet Application  PLUS: In touch with that printed magazine
The ten lessons learned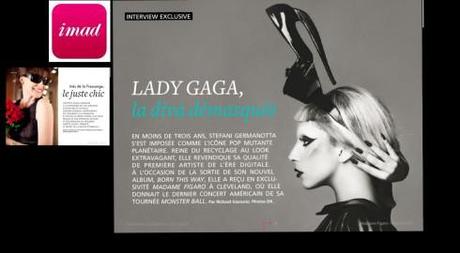 Here are samples of the Figaro's i-mad magazine app: my fellow panelist, Stephanie Jolivot is publisher

Ringier Studiios produces a series of elegant, story driven apps; my fellow panelist Doug Kaplan is

CEO

of Ringier Studios
I will moderate the panel this Friday at the WAN IFRA 63rd World Newspaper Congress, as part of the World Editors Forum series.  My panel will include Wolfgang Blau, editor of online for Die Zeit (Germany), Stephanie Jolivot, publisher of Madame Figaro (France) and Doug Kaplan, CEO of Ringier Studios (Switzerland).
I am honored to be in this group, as the work produced by their teams is fantastic, and I look forward to the discussion that will follow.
Among the samples shown, I will share the work of my co panelists as well as the new Guardian (UK) app, introduced only this week. I find this to be a clean, easy to follow and practical app.

In my introductory remarks I will mention the Ten Lessons I have Learned while working with news apps:
1. Telling Stories Across Platforms: Lesson 1: we must think in terms of a media quartet
2. What the Tablet Is: Lesson 2: Lesson 2: a platform that must be conceptualized to accommodate its uniqueness
3. The Lean Back Platform: Lesson 3: all available research shows a preference for evening use of the tablet
4. What the Tablet is Not: Lesson 4: It is not a replication of the print/online experience.It goes beyond to create an immersive experience (remember the finger)
5. Covering Three Tracks: Lesson 5: Users want their newspaper tablet apps to have the three main tracks of
curated edition, news updates and e-readers
6. The Tablet and Design: Lesson 6:  Make it sophisticatedly simple
7. Create Those Pop Up Moments: Lesson 7: allow for a curiously impatient finger
8. Pay Attention to the Essentials: Lesson 8: start with a good sense of navigation, make sure user always knows how to go from point A to point C or Z
9. Make It Functional: Lesson 9: remember what the users are coming to your tablet for
10. Consider a Curated Edition: Lesson 10: At its best, a news app is especially edited and prepared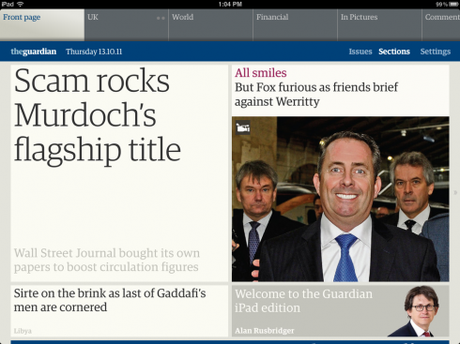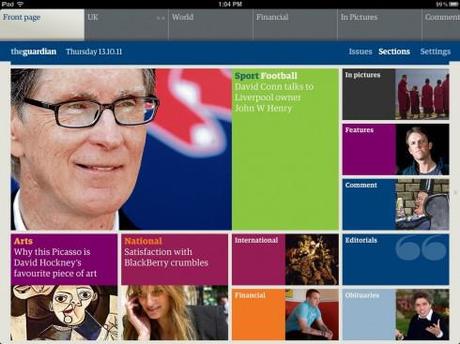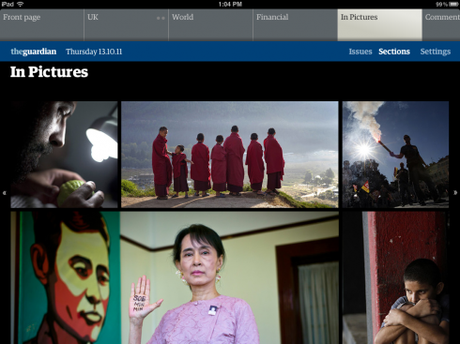 The Guardian's new app
Of related interest
The Guardian iPad edition design evolution
http://www.guardian.co.uk/media/gallery/2011/oct/13/guardian-ipad-edition-design-evolution
Andy Brockie from the Guardian's digital design team shares the key stages behind the design development of its new Guardian iPad app
When the magazine "does not" work like an iPad

Out of the fingertips of babes.
You will enjoy this video which shows how a one-year-old perceives the printed world.
And only last night I was telling my dining companions that I am glad there is NOT a YouTube video of me a few weeks ago when, standing in front of a screen of flight departures at the airline lounge in Frankfurt, and when the screens were taking too long to change from one alphabetical listing of cities to the next, I touched the screen as if I was going to swipe to the next page.  The lounge waiter standing right behind me said: Sir, sorry, but this is not a touch screen.
I was a bit embarrassed and was very happy that nobody had made a video to post on YouTube of a this "mature" man so entrenched into the ways of the digital world that he was swiping the nonswipeable screen on the wall.
So, therefore, I am not at all surprised that a one year old tries to swipe the good old printed magazine.
Food for thought.  How will the swipe generation approach life in general?