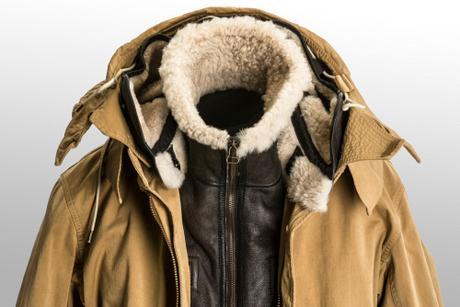 A lot of men's fashion today can be broken into two camps. On the one end, you have heritage (and heritage-inspired) brands that rely on the classics. On the other end, there are avant garde labels creating conceptually interesting – even if hard to wear – designs that break from the past. Ten C is a relatively new Italian outerwear company that sits between these two worlds – perfectly blending techwear with heritage, innovative fabrics with classic military design. Think of them as: Stone Island meets Nigel Cabourn. 
Which makes sense, I suppose, given that the two founders, Paul Harvey and Alessandro Pungetti, are Stone Island and CP Company designers. The two are known for making very innovative, but also highly-wearable, contemporary Italian sportswear. Ten C is similar, but is a bit more approachable for the kind of guy who buys his casualwear from shops such as Unionmade and The Bureau Belfast. 
The original concept for Ten C was simple: create a "forever collection," which would be comprised of seven fall/ winter outerwear designs, made from the same fabric, but offered in four colors. And never do anything else – don't change the collection, don't introduce anything new. Just make things that will last and people can keep forever. In that collection was a belted snow smock, an M-65 jacket, and a fishtail parka (among some other things). You can hear Paul Harvey describe them here.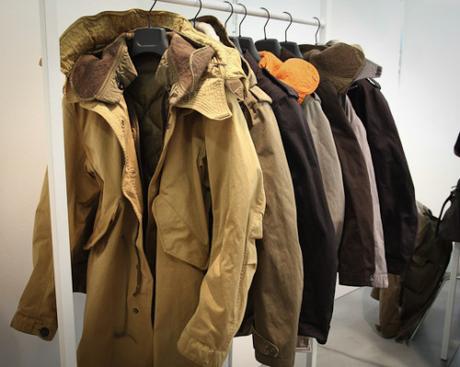 Of course, the fashion industry has a way of forcing itself on people. After a few years, some of Ten C's stockists started to ask for new designs, and there was the issue of seasonal collections. "Originally, we didn't want to do a spring/ summer collection, but we've sort of had to," says Harvey. "Commercially speaking, once you've gained space within a shop, you have to hold on to it. Skipping a summer collection means another brand can slip in there and push you out, so we've had to create a summer line in order to stay commercially viable." 
So, the company has introduced a new three-layer, breathable shell (sort of like Gore-Tex, but without the Gore-Tex branding). They've also added a few new designs, such as a modified American deck jacket, a parka inspired by a standard-issue NATO coat, and an anorak taken from something worn by the British Royal Navy. It's a slightly expanded collection, but the company's soul still stays fairly true to itself. The designs carry over from season-to-season, fighting against the idea that you necessarily have to re-invent the wheel every year. In the summer you may find their snow smock in their breathable shell; and in the winter you'll find it in their original Japanese jersey.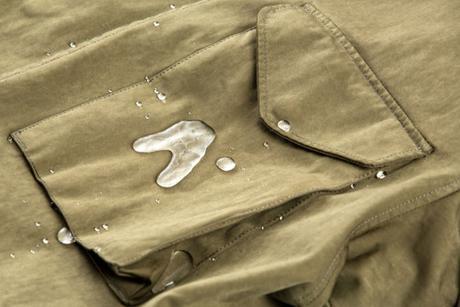 That jersey, for me, is the real winner. It's a soft, velvety fabric made up of millions of densely knitted micro-fibers. When wet, the fabric performs much like Ventile – the fibers swell up, blocking any additional moisture from leaking through, which makes this naturally water-resistant. The only difference is that, whereas Ventile is soft when dry, Ten C's jersey is a bit stiff. A nice property, I think, since it gives some of their fuller coats a beautiful three-dimensional shaping when worn. Add to that the shearling liners and wire-shaped hoods, and you have military-inspired garments that feel much more interesting than anything else on the market. The only downside: Ten C is expensive, especially once you factor in the hood and body liners (which I'd recommend getting if you buy one of these coats – the extra detailing is worth it).
If you can stomach the price, these jackets are truly amazing. Comparable to Nigel Cabourn's work, although maybe less about historical reproductions. You can find them at The Bureau Belfast, Haven, Gentry, Frans Boone, Volls, Kafka, 14 oz, East Dane, and End. Club Monaco also has the navy deck jacket and olive fishtail parka this season (which are the two models I own), and they have slightly better product photos than some of the other stores. Lastly, Paul Harvey tells me they're developing a new three-layer version of their Japanese jersey fabric, which will be introduced next year. Those new coats will be fully waterproof and feature taped seams.