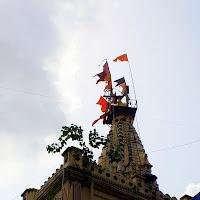 As a devotee visits at a temple and in a true spirit of devotion, is inspired by the vision of the murti (idol) he feels a thrill a joy and inner peace, in spite of the prevailing tensions around.
It need hardly be emphasized how much more temples are necessary these days. They would serve as speed breakers to soften our hectic blind rush forward in life.
They would also serve as sources of inspiration and solace during times of depression and disappointments, which are mostly beyond our control.