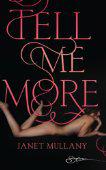 "Tell me every dirty detail…"
Jo Hutchinson is obsessed with a man she's never seen—only heard. Her late–night calls from the office to the mysterious "Mr. D." grow increasingly intimate, until they finally become full–blown phone sex. Still, Jo doesn't dare meet him. Instead, she embarks on a series of sizzling sexual escapades with other guys, sharing every sweaty moment with Mr. D. afterward, a passion–by–proxy arrangement they both get off on. But even as she's charting brave new naughty worlds, Jo knows that it's all really for Mr. D. Every pleasure she experiences—eagerly, athletically, vocally—is to please him.
Immersed in fantasy, reality just slips away—even the chance at that elusive combination of love and lust. Her new tenant, Patrick, an Irish hunk in geek's clothing, is totally into her. And in her lucid moments, Jo knows she feels the same. Can she tear herself away from her kinky dreamworld long enough to appreciate what's right in front of her? Or has Mr. D. ruined her for real life?

•Why am I reading it? Interesting and different story, doesn't seem like it will have a predictable ending.

• Introduction: Jo works at a radio station and has just broken up with her boyfriend. Her best friend Mr. D has always been there for her, and even though they've never met, their relationship starts to change.

• Who is it for? Erotica readers.

 (CONTAINS LIGHT SPOILERS)
♦ What it covers? Multiple partners, phone sex, sex club, some f/f  and m/m interaction.

♦ Context: Compared to other romantica works, this is definitely mostly erotica. Love is a consequence.

♦ Key Words: betrayal, sex, orgy, love.

 (CONTAINS SPOILERS for a further analysis)
→ Opinion
I was hoping for Mr. D to be Patrick and all would live happily ever after. The main characters, especially Jo, go trough a lot of dirty TROUBLE, too many for a novel, I felt so bad for her. I didn't understand a few of the heroine's decisions and some scenes switched so fast and I had to go back and read again to catch up.
I thought this story just went from sex scene to sex scene, but then by the end of the book you see how lovely her RELATIONSHIP with Patrick develops and even after all the bad things that happen to them, he's able to forgive her. But why, oh why, did she have to sleep with Mr. D?! And it was stupid of her to go to that dinner, and so many things she could've avoided when she was so happy with Patrick.
Most of the sex scenes are great, some dialogs are really weird and other situations makes the heroine so embarrassed that you wanna scream at her. Tell Me More is a fascinating story but has a lot issues that might disappoint the reader.
SEXUAL CONTENT: 5/5


RATING: 3/5