Several years ago I came across Homeschool Programming at the FPEA convention.  I was immediately impressed with their Kid Coder Program.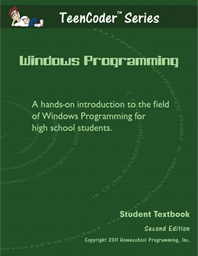 Unfortunately, it was one of those things that got put on the back burner.  One day, my oldest son came to me with a burning desire to learn computer programming -
NOW!
We checked out our local virtual school and discovered that he had to be in at least 10th grade and had completed Geometry before taking their class.   Still, h
e would not be deterred!  Searching out other options, we came across Homeschool Programming once again.  We were both overjoyed to learn that he could begin the
Teen Coder for Windows Programming
immediately!
"TeenCoder: Windows Programming is our first semester course in the TeenCoder C# series. This course introduces 9th-12th grade students to the C# programming language, Microsoft's cutting edge technology! Students will learn to create graphical Windows applications using object-oriented design concepts."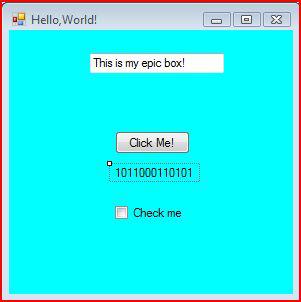 Hello, World Programming Activity
He is almost 1/2 way through the first semester.  It has been a welcomed challenge for a gifted math-science oriented student.  He's made great progress through this course pausing just a few times when a new concept "tripped him up".
So far, he's learned the Fundamentals of C#, programming concepts, data types and variables, basic flow, inputs, math functions and working with strings.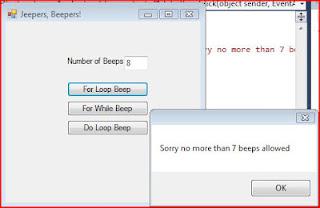 Homeschool Programming:  Programming Activity
Jeepers Beepers 
Each lesson consists of 3-4 reading assignments, a chapter review, programming activities and a test.
Admittedly, I'm no Einstein.  I'm grateful to have the answer keys to the tests and to know that if an activity doesn't work it means that something isn't right and my son has to keep working on it.  Another great aspect of this course is if your student is stuck, you can email the company and they WILL get back to you with a helping hand!!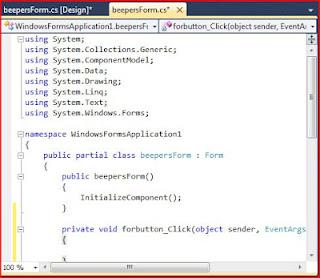 Homeschool Programming - Code Window
Originally I had hoped to move through the course at a chapter every 5 days.  I now see that even though my son has an analytical bent, he needs time for these concepts to sink in.  So, we spread the chapter out over the whole week allowing him to do the Programming Activities and review previous concepts during the weekend when he doesn't have other school work.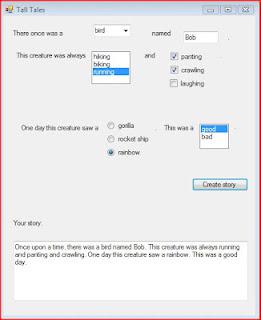 End Result for Tall Tales
Using Teen Coder has been a great experience for my 9th grader.  It's an opportunity to learn more about something he loves while having the freedom to move at his own pace.  He's also looking forward to moving on to the second semester Game Programming course.
Disclaimer:
I received a copy of Teen Coder C# in exchange for an honest review.SPECIAL OFFER FOR Homeschool Circus SUBSCRIBERS through October 31: Use code
LISAtips
for a $19.99 discount when you buy any curriculum CD Library plus Spanish Empire library. This post written and property of Homeschool Circus and can be found at: www.upatdawnreadytowork.com.