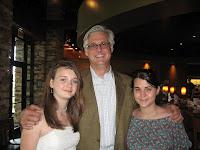 Sarah Rollins (right) with her father, Ted,
and sister, Emma
The oldest daughter of Campus Crest Communities CEO Ted Rollins says she was aware that her father had "somewhat of an unusual relationship" with his stepson.
When I asked Sarah Rollins if she was referring to
the investigation in North Carolina of possible child sexual abuse
involving her father, she said, "Yes, that's what I'm referring to."
Sarah Rollins joins her mother, Birmingham resident Sherry Carroll Rollins, in confirming that an investigation took place. Referencing what she apparently understands to have gone on, Sarah Rollins says she worries about the impact such revelations might have on her half brother.
"I certainly think that is something that is no good, but I just know that (my half brother) would not want it to be known to anybody who decided to look it up one day," Sarah Rollins says. "He has a family, and he's very private . . . "
My conversation with Sarah Rollins came when she unexpectedly called me at home one evening. She was nearing the end of her senior year at Mountain Brook High School and now is
enrolled as a freshman at the University of the South at Sewanee
. Other than one brief followup message via
Facebook
, this is the only interaction I've had with her.
Sarah Rollins comes across as a bright, articulate young woman who has had to find her way through a turbulent family situation--one that has been made much worse by the gross injustice inflicted upon her mother in the divorce from her father. That divorce, which Sherry Rollins initiated in South Carolina (where the family lived at the time) and saw it litigated in Greenville for three years, was unlawfully moved to Shelby County, Alabama. And that's where Circuit Judge D. Al Crowson issued a divorce judgment that was so grossly unjust--and one-sided in Ted Rollins favor--that it caused Sherry Rollins and her two daughters (Sarah and Emma) to wind up on food stamps.
We have written extensively about
Rollins v. Rollins
, a case I call the worst courtroom cheat job I've encountered in the civil arena. Sarah Rollins has a unique perspective on all of the issues involved. She was an infant, being held on her mother's hip, when Ted Rollins severely beat his stepson in 1995. In fact, Sherry Rollins had to sit her daughter down before trying to drag Ted Rollins off her son and finally calling 911 for assistance.
Sarah Rollins, her mother has told me, was an early talker. But witnessing the beating disturbed her so much that she stopped talking for quite a while.
We think Sarah Rollins has a valuable perspective on family turmoil--and the courtroom injustice that can make it infinitely worse. We will share her thoughts in a series of upcoming posts.