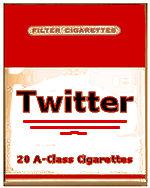 You're at an outing or a dinner table with friends but itching to check your email or Facebook or Twitter or Instagram or Google+ or whatever digital hit of serotonin you prefer. Have you ever 'gone to the bathroom' in order to check email or come up with a socially appropriate excuse to pull out your smartphone just so you can check your @ replies on Twitter?
A new British study backs up that Internet usage is increasingly becoming an
addiction
. Out of 1000 people surveyed after being cut off from the Internet for 24 hours, 53% reported feeling 'upset' about being deprived of online access and 40% said that they felt lonely after not being able to connect to the Internet. Participants described the digital detox akin to quitting drinking or smoking.
The Presurfer