NDX fell all the way to 3,480 yesterday but finished the day at 3,556, recovering 76 points (2%) in two hours.  Hey, a few more days of gains at that rate and we'll be well over the 1999 highs – GO MARKETS!!!  
Of course, as you can see from this chart (many more like this over at our Chart School), it's going to take a lot more than a little 2% stick-save to stop that nasty "Head and Shoulders" pattern from hitting the dreaded "knees and toes" range.  
On the bright side, there was decent volume on yesterday's reversal, but that was only compared to the incredibly low volume of the previous run-ups.  SPY volume was 135M, the biggest day since 4/15 by 30%+.  If we do get follow-through to the upside today, we do need to take it seriously.  As you can see from our Big Chart, the Nasdaq and the Russell are still in serious trouble: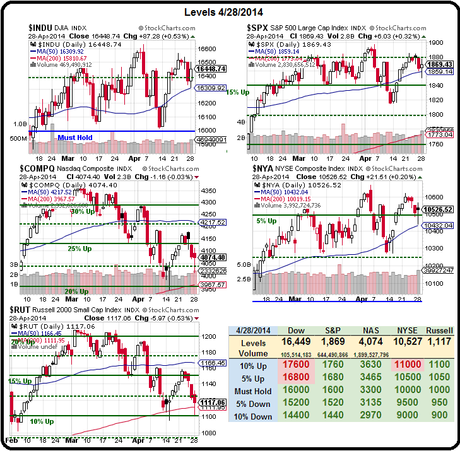 The Russell was only saved by the 200 dma at 1,112 yesterday and fell all the way down to test our 10% line at 1,100, where we barely held up in February.  This is what's keeping us from adjusting our 5% levels higher, the RUT keeps threatening to add a red box and the Dow simply cannot get over of it's 5% line (though it has avoided failing the Must Hold line, so far).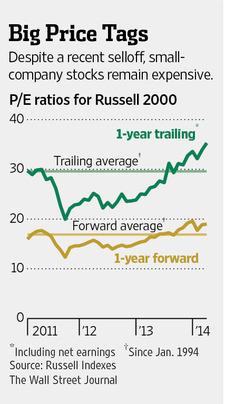 As you can see from this WSJ chart, the Russell 2000 is trading at a fairly ridiculous 36 times trailing earnings – even with the recent sell-off.  Going forward, they project to be at 20 times earnings but I'm not seeing any actual evidence that profits will be rising 44% this year, are you?  That's what it takes to change a 36 p/e into a 20 p/e but PLEASE – don't confuse traders with facts, right?
The 20-year average for the Russell, including the runaway valuations of 1999 and 2007, is 16.9 so 36 is more than double the average valuation.  Small cap stocks (under $1Bn in valuation) aren't even benefitting from the Fed's Free Money Party the way the S&P 500 are and,…
You must login to see all of Phil's posts. To read the rest of this article now, along with Phil's live intra-day comments, live trading ideas, Phil's market calls, additional member comments, and other members-only features -
Subscribe to Phil's Stock World by clicking here
.
To signup for a free trial membership, click here.