The S&P held flat on low volume but sold off sharply after hours, only to recover early this moring from a dip all the way back to testing the 1,360 line at the Dollar ran back to test 80.  
As David Fry notes:  With over 400 of S&P 500 earnings being reported only 60% are beating estimates whereas in the previous quarter the level was over 80%.  Consumer credit rose sharply by $21.4 billion in March vs expectation of $9.8 billion. Most of this gain was concentrated in the new bubble, student loans.
Spain is up again this morning (1.5%) on bailout talks but the FSTE and DAX are barely flat after poor opens and the CAC is still down 1%.  Our Futures are down about 0.25% overall, which is a vast imrpovement from the lows at 4am. 
There is no particular reason for the move, other than this being Tuesday in a manipulated market.  Neither oil ($97.38) or gold ($1,628) or copper ($3.71) or silver ($29.73) or even gasoline ($2.97) give any indication of consumer demand for commodities.  "Fixing" the charts does not mean you have fixed the economy!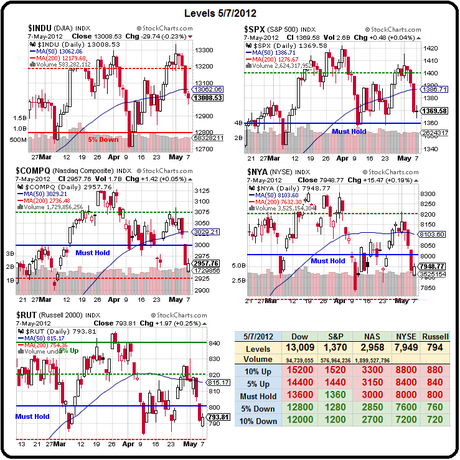 In fact, as you can see from our Big Chart, huge technical damage has been done to all of our major indexes with the S&P acting as the sole hold-out over its 1,360 line, where it has bounced 3 other times since March.  Does that make it solid support or a dangerous floor to break below?  We'll probably find out in the very near future
. 
 As I mentioned in yesterday's post – none of the structural issues that affect the EU are going away and we need to dig deeply to figure out what is really going on in the International Markets.  Yesterday was very much a watch and wait day as we certainly didn't take the low-volume move up too seriously – as you can see from the Big Chart – we haven't even made an attempt at what we would classify as a "weak bounce" so far.
Speaking of weak -  ICSC Retail Store Sales were down -0.8% week over week – leaving them up 3.3% for the year but that is softening fast from a 4.2% annualized reaading.  The decline in sales is due to consumers concentrating on staples especially groceries.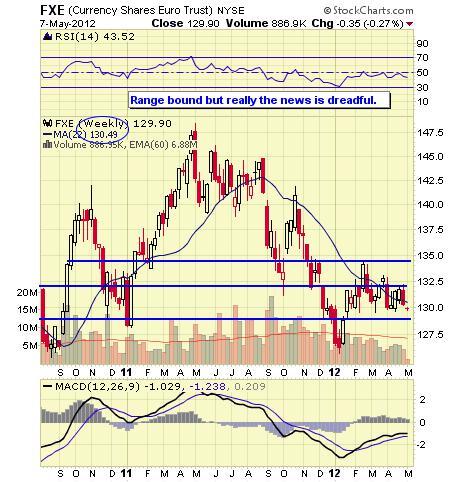 The Euro is trading at $1.30 - 0.6 percent from a three-month…