Tebey brought The Good Ones Tour to Toronto on Friday night, proving once again that country music fans in Canada's biggest market will head out in the cold to see one of their own headline a great show.
Along with opener Matt Lang, Tebey put smiles on the faces that filled The Opera House. It was a hot night inside the 100-year-old Toronto landmark with cold drinks flowing and good times on tap, despite the below-zero temperatures outside. The energy was everything we could have hoped for and the show lived up too.
This slideshow requires JavaScript.
After the line of fans filed through the doors and found their spots on the general admission floor and up in the balcony, Matt Lang came out to open the show and showed fans why he's seen as a rising star in Canadian country music. The 2019 SiriusXM Top of the Country winner came out with a set that had boots tapping and fans singing along and phones up in the air taking photos and videos throughout. Songs like Right Where We Want It and About You off the top did a great job of getting things moving early in the show. And then, as an unexpected bonus and fantastic nod to 80s and 90s country music, Lang and the band broke into a medley of Dwight Yoakam hits, Guitars Cadillacs, Little Sister, Please, Please Baby, and Fast As You.
Matt Lang's ability to share his own songs and sound great, and also show great respect by nailing Yoakam's classics (including that famous little shimmy) and keep that sound and vibe alive is special. By the time he finished his opening set with Love Me Some You and his most recent release, Water Down The Whiskey, Matt Lang had the Toronto crowd in. And if we're placing bets, we'd say it's only the first time of many that he's going to make that happen in his career.
Matt Lang Setlist, The Good Ones Tour, Toronto
Right Where We Want It / About You / Woke Up Like This / Dwight Yoakam Medley: Guitars Cadillacs, Little Sister, Please, Please Baby, Fast As You / Love Me Some You / Water Down The Whiskey
This slideshow requires JavaScript.
In the main event, feature attraction, headlining spot, Tebey was front and centre and crushed it.
In a career that's taken him to the top of the charts as a singer and a songwriter, Tebey has tasted success that many artists don't. And it still feels like he's just getting started. On Friday night we saw him headline for the first time after seeing him as an opener and festival act in the past. He's reached that point. He's the guy with his name and photo at the top of the poster. He's the one selling tickets. And he's the one with the songs that had people singing and dancing and cheering at The Opera House in Toronto.
Tebey started the set hot with Bad For Me, Wake Me Up, and When The Buzz Wears Off. From the minute he started, a quick look around the floor and the balcony showed fans singing along with giant smiles on their faces. This was the Friday night they imagined when they bought their tickets. And things were just kicking off.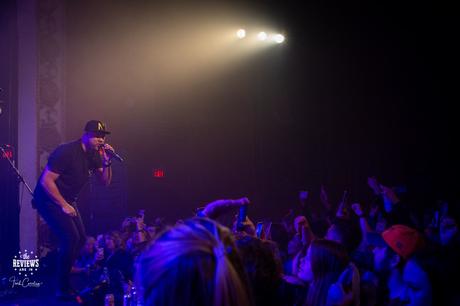 What became apparent as Tebey played through a set that also included Good Jeans, Denim On Denim, Who's Gonna Love You, and Somewhere In The Country is that fans are in and have been in on him for a while now, and were just as ready for this next step as he was. They know the words and have their favourites and know the stuff from his first album just as much as they do the new smashes.
We also need to give a shout out to Genevieve Fisher who joined Tebey for The Good Ones. It's another great song and Fisher was a fantastic stand-in for Marie-Mai.
And when he slid in covers like Fast Cars And Freedom, Stay A Little Longer, and Some Of It, and Lotta Leaving Left To Do for the encore, he showed his ability to put his own voice on great songs, and that he appreciates them both as a singer and as a songwriter himself.
It's been seven years since Tebey won the very first Emerging Artist Showcase at Boots & Hearts, and here he is with a #1 Canadian country radio single, #1 credits as a songwriter on both sides of the border - and a headlining tour that rocked The Opera House in Toronto on Friday night.
Tebey Setlist, The Good Ones Tour, Toronto
Bad For Me
Wake Me Up
When The Buzz Wears Off
Jealous Of The Sun
Somebody Else Will
Good Jeans
Who's Gonna Love You
Some Of It(Eric Church)
Fast Cars And Freedom(Rascal Flatts)
The Good Ones with Genevieve Fisher
Stay A Little Longer(Brothers Osborne)
Lightweight
Now I Do
Somewhere In The Country
Denim On Denim
ENCORE - Lotta Leaving Left To Do(Dierks Bentley)