In spite of an unpromising start, I ended up really loving Fingersmith. This is a very Dickensian tale that involves orphans, asylums, devious plots, and yes, a touching love story.
Here's a short quote that I love and which I thought conveyed the intense attraction that Sue felt for Maud really beautifully.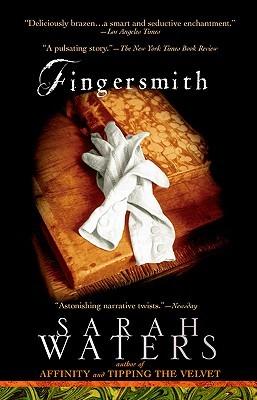 I felt that thread that had come between us, tugging, tugging at my heart - so hard, it hurt me.

A hundred times I almost rose, almost went in to her; a hundred times I thought, Go to her! Why are you waiting? Go back to her side!

But every time, I thought of what would happen if I did. I knew that I couldn't lie beside her, without wanting to touch her.

I couldn't have felt her breath upon my mouth, without wanting to kiss her.

And I couldn't have kissed her, without wanting to save her.

~ Fingersmith by Sarah Waters
Have you read this book? What did you think about it? You can see my review here.
Teaser Tuesdays is a weekly bookish meme, hosted by Ambrosia at The Purple Booker. Anyone can play along! Just do the following:

Grab your current read
Open to a random page
Share two (2) "teaser" sentences from somewhere on that page
BE CAREFUL NOT TO INCLUDE SPOILERS! (make sure that what you share doesn't give too much away! You don't want to ruin the book for others!)
Share the title & author, too, so that other TT participants can add the book to their TBR Lists if they like your teasers!