Hey Eric & Sookie Lovers!
One of our favorite bloggers, TB Rants & Raves – has posted her review of True Blood: Episode 2, "You Smell Like Dinner"!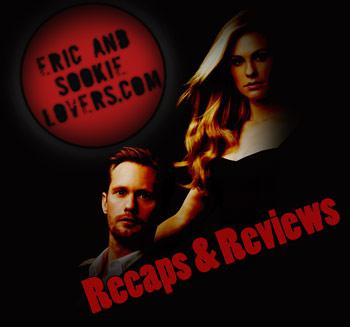 This is just a preview of her review:
Eric: "There are two Sookie Stackhouse's. One still clings to the idea that she is merely human. The other is coming to grips with the fact that you are better than that."

Sookie: "And what do you think will happen when I do come to grips with it? Do you think my legs are going to magically open for you?"

Eric: "Well that was saucy. That must be Fairy Sookie talking. I like when she comes out." (Note: me too)

Sookie: "And I'm already sorry I said it."

Eric: "Don't be. The more you let her speak for you, the more likely you are to go on living. And you want to live don't you?"

(Aww Eric. He just "gets" her.)

There are so many things about this exchange that I love. First, I'm relieved that by pointing out there are two Sookie Stackhouse's the writers are aware of the fact that Sookie's character can be … inconsistent. (To put it mildly.)

Second, I also like that this exchange reminded me of the porch scene in Season 3 when Sookie talked about the two Eric Northman's.

"You do something generous and selfless and then you follow it up with something nasty or downright cruel."

Finally, I like how Eric is encouraging her to embrace what she is rather than hide. Was Eric's purchase of Sookie's house a selfless act? Of course it wasn't. But that does not change the fact that Eric is asking her to be his. He wants her to come to him onherown.
Personally, I LOVE this review and I completely agree! She pokes full of Queen Bill and his '80′s flashback…Adam Ant, anyone? She voices how some Eric & Sookie lovers felt when Sookie showed up at Bill's doorstep wanting help…WTF?

And more!
You can read the full review here!
Thanks TBRants & Raves for the great review!
What do you think of this review? Do you agree or disagree?
Share your thoughts below!