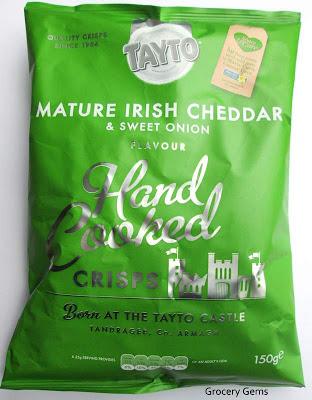 After I reviewed the Tayto Irish Roast Beef & Peppercorn Sauce Handcooked crisps the lovely people at family owned business Tayto sent me the three other flavor in the range to try. They are Sweet Chilli & Red Pepper, Causeway Sea Salt & Cracked Black Pepper and Mature Irish Cheddar & Sweet Onion. I've  reviewed the Sweet Chilli & Red Pepper here, and they were absolutely delicious. I couldn't wait to try the Mature Irish Cheddar & Sweet Onion flavor next, it sounds like crisp perfection to me!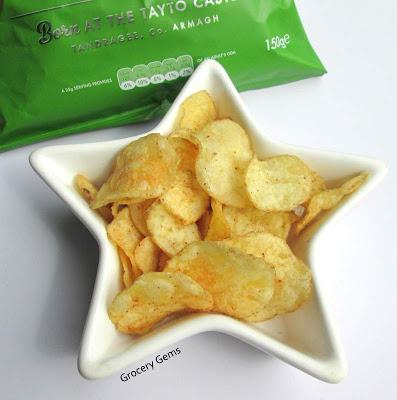 Tayto have been making crisps from the setting of their beautiful castle in the heart of the Northern Irish countryside since 1956. Apparently you can even take a tour around their factory which is set in the Tayto Castle grounds - something I'll be sure to do if I'm ever in Northern Ireland!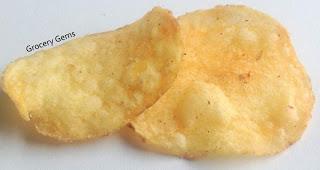 The Mature Irish Cheddar & Sweet Onion Handcooked Crisps continued the high standard I've come to expect from Tayto. The crisps are all golden with plenty of visible seasoning, and they have a lovely crunchy texture without being too greasy. The cheese flavor here is just fantastic, it's a full bodied mature cheddar but with a smooth and creamy flavor. The onion is just as strong as the cheese, but with a deliciously sweet flavor to it. It's this sweetness from the onion that makes this combination of flavours absolutely gorgeous. You can't beat a good cheese and onion crisp and these really ARE fantastic.
Tayto crisps is a family run business with a fantastic history which you can read about on their website here. You can also follow Mr. Tayto on Twitter! 
Tayto kindly sent me this product for an honest review but all views expressed are my own. Grocery Gems Verdict: Tayto Mature Irish Cheddar & Sweet Onion Handcooked Crisps
RATING: 10 out of 10.
Buy them again?: Absolutely. 
Purchased

:

 

Sent by Tayto for review. Also available to order 

online
Nutrition: (per 25g) 125 calories, 1.7g protein, 13.5g carb, 6.9g fat.