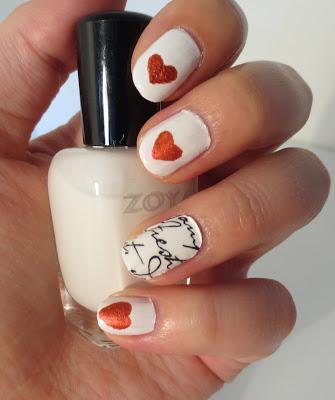 Have you seen the music video for Taylor Swift's song "22"? I am not the biggest T Swift fan but I do enjoy a few of her songs and the music video for "22" is super cute and girly. I wanted to create a nail tutorial inspired from that video. If you've seen the video, then you know Taylor is wearing a black & white shirt that says "Not a lot going on at the moment". I used the nail polish strips in "Love Letter" by Sally Hansen to get the black and white writing effect. You could also do "newspaper" nails (place a piece of newspaper & rub alcohol over the nail) to get a similar look if you don't want to buy the nail polish strips.
Taylor Swift is also all about the red hearts and in her video she has a big heart pinate. I thought white nails with red hearts would look super cute with the "love letter" strips and that's where the whole inspired look came from! There was so many more nail art idea's that I had from this video so if you would like to see another inspired look, let me know!
Products Used:
Zoya Snow White  $9
Sally Hansen "Love Letter" nail polish strips $10
Sally Hansen Red Nail Art Pen $8
Seche Vite Fast Drying Top Coat $11
Check out the video to see exactly how I did the look!
Thanks for watching!
Follow: Twitter, YouTube, Instagram