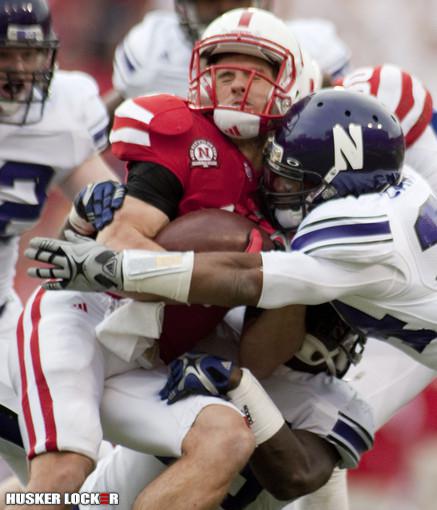 Share this story
By Brandon Cavanaugh
There's been some confusion over the past several years as to my stance on Taylor Martinez. The predominant thought is that I hate T-Magic. This couldn't be further from the truth.
To hate someone takes both a reason and effort. Martinez has his own interests, his significant others (or not, I don't keep tabs), and lives his life the way he sees fit to which I say, "Do your thing."
When he puts on a helmet and pads, we switch over into another realm that many confuse as hatred: critical analysis. It's easy to confuse the two, especially when a player performs badly.
Using Martinez as an example, when he throws poorly, makes awful reads or other mind-numbingly frustrating mistakes ad nauseum, as the starting quarterback of a major FBS program, that performance should get you called out.
The problem is there's no other option. The next best quarterback, if I am to believe what I'm told from various sources in print, verbal and audio form, is Nebraska's starting running back.
Program A's second best option under center or taking snaps is the guy getting handoffs? That's comical. It's a true testament to Burkhead's abilities, don't get me wrong, but he shouldn't have to be No. 2.
If Taylor is the answer, the mental struggles that Brion Carnes allegedly suffers from must be of a monumental scale. Ron Kellogg's knees aren't in the best condition, so I accept that he's not the best candidate to take over should Martinez bust his collarbone. Tyson Broekemeier, while not having an opportunity to show much falls under the "Why Not?" category.
I don't hate Taylor Martinez. I dislike the way he's being handled. The pressure's entirely on him to succeed, because if he doesn't, there's no one behind him with enough FBS-level experience to look smooth.
Sitting in the stands almost one year ago watching Brion Carnes put on a clinic, I didn't care that it was against Nebraska's scrubs. He made dynamic plays.
When Taylor Martinez pulled off runs that had fans and media across the nation uttering "Heisman," he made dynamic plays. If Carnes struggles so badly with Tim Beck's system, why not prove it? If he truly doesn't deserve that No. 2 spot, why not give the nation visual evidence?
Against both Wisconsin and Michigan, Carnes could've been put in and given the opportunity to either prove his inability to make the simplest of decisions, or excel and cause doubt.
If he does that in two games where losing by 47 instead of 40 doesn't matter, coaches have their proof and can say, "Look at the tape" in either case.
Martinez isn't worth hating, and do you know why? If he excels, Nebraska does, and it's much more enjoyable to celebrate than hang your head. As a competitor, what do I want? Conference championships, BCS bowls and national titles. I like hardware. I'd wager you do, too.
If Taylor Martinez can take Nebraska to the Promised Land, I will buy a No. 3 jersey at the 200 percent markup and shout his praises from the rooftops, but I won't have to.
Is he a great athlete? Yes. Does he deserve an FBS scholarship? You bet. Is he a quarterback that will win Nebraska a BCS bowl game if Rex Burkhead goes down and the entire team looks to him for leadership? No, he is not.
Football is only kind to the winners, to those who go above and beyond, to those who win game after game, and title after title. Martinez's best game in 2011 was in a loss.
I could accept that if he had performances against non-conference patsies or even Big Ten mid-level teams, but he still struggled. Texas showed the world how to knock him off his game in 2010. If you can do that, you can beat Nebraska.
In just under a month, Taylor will have the opportunity to take the field again and wipe away memories from last year where he tanked. Can he do it? Sure. Will he? The jury's out.
I'd like to think he will. That his stat line will read seven carries for 95 yards, 12-of-15 for 185 yards and two touchdowns with no picks to his name. That would prove that he's progressed, something he's yet to show that he can do quickly.
It'd be a start. We can talk summer and fall if and when such a performance happens. Until that point, no offense to coach Pelini, but call me skeptical that Taylor's footwork has improved.
What? Did you expect him to tell 30 reporters that his starting quarterback looks like crap to being spring ball?
With Bo's recent hires and decisions in recruiting, he's showing growth as a head coach. The next step is knowing when to pull out the hook.
He's done it in the past with other positions. If things spiral out of control with Martinez, not only does it need to happen at the quarterback spot, but there needs to be someone ready to take over and produce.
I don't hate Taylor Martinez. I don't have the reason, time or energy. I'm not a fan of constantly rewarding mediocrity and right now, that's what's taking snaps at quarterback for Nebraska.
Follow us on Twitter:
@huskerlocker
Like us on Facebook:
Official Husker Locker Page
Permanent Link to this Blog Post