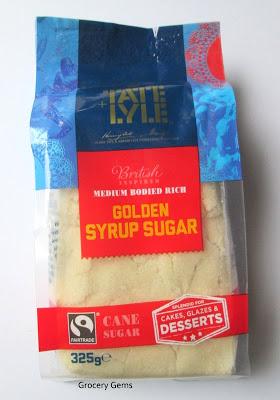 Tate & Lyle have combined two of their most famous products, cane sugar and Golden Syrup into one unique sugar blend. This Golden Syrup Sugar is part of a wider Taste Experience range of world inspired sugars, with many exotic blends, such as a Mayan Inspired Golden Caster and a Caribbean Inspired Light Muscovado. Each one boasts a light, medium, medium rich, or full bodied flavour, with unique tasting notes and textures.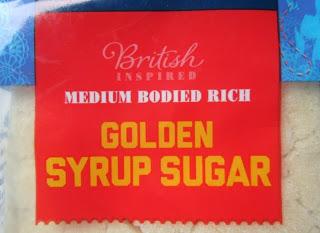 The British Inspired Golden Syrup Sugar is described as a medium bodied rich that is beautifully distinctive with a luscious, lingering sweetness. I was very pleased to receive a sample of the Golden Syrup Sugar along with a delightful porcelain teacup from Tate & Lyle. As soon as I opened up the package, the aroma from the sugar was completely different to an average cane sugar. It's rich and golden, with a dense texture similar to a muscovado sugar, but with a much sweeter treacle scent.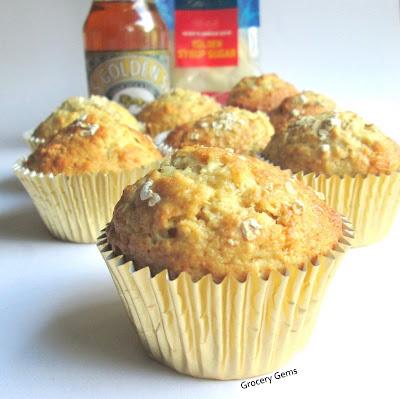 I decided to make some Golden Syrup & Oat Muffins by using this recipe HERE but adapting it a bit. Since I was already using a golden syrup sugar I only added one tablespoon of extra syrup. I also added oats and oatbran to the flour to give the muffins a bit more texture.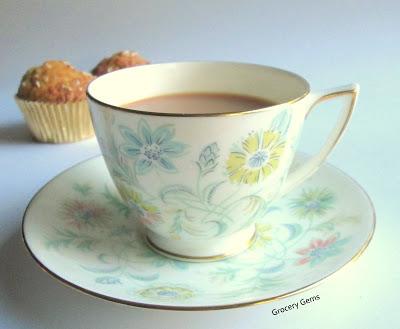 I love the Minton Vanessa Bone China cup and saucer that was sent to me - tea tastes so much better from this pretty porcelain rather than my usual mug! The muffins were also extremely enjoyable. They weren't super sweet, as they might be if actual golden syrup was used. The golden syrup flavor here is quite subtle, but makes these muffins richer and more flavourful than if standard sugar had been used. The Great British Bake Off will be back on our screens next week (Tuesday 8pm BBC2) and I'm sure I'll be inspired to try more from this Taste Experience range in a bid to add more interest to my baking :)
The British Inspired Golden Syrup Sugar is available at Tesco, Waitrose, and Ocado in 325g packs. Have a look at the Tate & Lyle Taste Experience website for details of all the world inspired sugars available and their unique descriptions:
http://www.tasteandsmile.com/product/taste-experience