One of the great things about Clueless Dad is his appreciation of different cultures.

 

 
It really helps since he married me with all my West Indian/Caribbean flavor.

 

He always embraces my culture every chance he gets and I dig that.

  

He even goes out of his way to even by ingredients in the hopes of me hooking up some exotic meals.

 

 
This week, on his grocery tour, he brought back a package of salted cod fish, which you don't normally find at the local stores.

 

 
When I was growing up, my Mom making salt fish, was usually accompanied by my Dad making bakes, (don't even think about asking me why it's called bakes) which are a mix between dumplings and biscuits.

 
Here's how you can make traditional Guyanese Salt Fish and Bakes.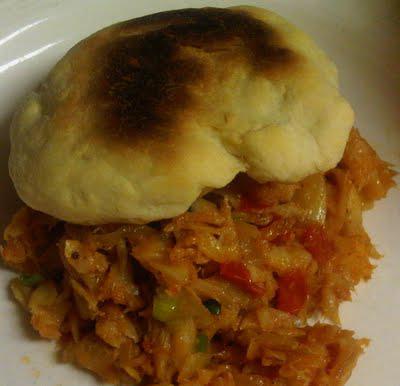 The Salt Cod
Here's what you'll need:
1 package salt cod
1 onion
1 tomato
2 tbsps ketchup
1 tbsp butter
2 stalks of green onion
1 tsp paprika
1 tsp garlic powder
Since this is a salt cured fish , you'll first need to boil the fish to reduce some of the salt.

 

Boil the fish in a large pot of water for an hour.

 

Drain and set aside.

 
***Quick tip, um apparently some cuts of this fish is extremely bony so make sure you check the label to make sure it is a filet and boneless, otherwise, you'll be pulling out pin bones for an hour like I was.
Slice the onion and dice the tomato.

 

In a sauté pan, heat the butter to a sizzle and add the onions.

 

Once the onions are translucent, add in the tomatoes.

 

Continue to sauté the onions and tomatoes together then add in the fish.

 

Using a fork, gently mash and separate the fish into little chunky pieces.

 

Stir occasionally for

 

about

 

5 minutes.

 

Stir in the ketchup.

 

Add in the garlic

 

powder and paprika.

 

Chop the stalks of green onions and add to sauté pan, toss and remove from heat.
For the Bakes
You'll need the following:
1 cup all purpose flour
1 tbsp baking powder
1/2 tbsp sugar
1 tsp salt
1/4 ounce milk
1 tbsp butter
1tbsp vegetable oil
In a medium sized bowl, mix the flour, baking powder, salt, and sugar.

 

Separately mix the butter and milk, and add to the dry ingredients.

 

Mix until it begins to stiffen, then using your hands knead the dough until smooth.

  
If your dough sticks to your fingers, add in some more flour.

 

Continue to knead the dough until it is smooth and does not stick.

 

Heat a large skillet/frying pan and add in a small amount of oil.

 

Separate the dough into 4 or more flat circles (depending on the size bake you want).

 

 
Place the bake in the pan and fry on low heat.

 

Add a drop or two of oil every 5 - 7 minutes and rotate the pan so the oil spreads evenly.

 

Flip bakes once the underside is brown.

 

Remove from heat once both sides are browned.

 
Cut the bakes in half and serve with the salt fish.
Like this recipe?  Share it with your friends.