I know I'm not the only one who was watching The Next Food Network Start on Sunday night.

 

Congratulations to the Jeff Mauro, The Sandwich King.

 

In honor of his big win and soon to be aired show, I'm dedicating this Tasty Tuesday recipe to those who love a good sandwich.
A breakfast sandwich.

 
If you asked me a few months ago what my favorite sandwich was, I'd probably say a BLT with cheese (every sandwich needs cheese).

 
Now, I've got a new fav.
On those days when I'm just not in the mood to cook a whole lot but still want something yummy, this is my new go to breakfast, a bagel sandwich with cream cheese and prosciutto.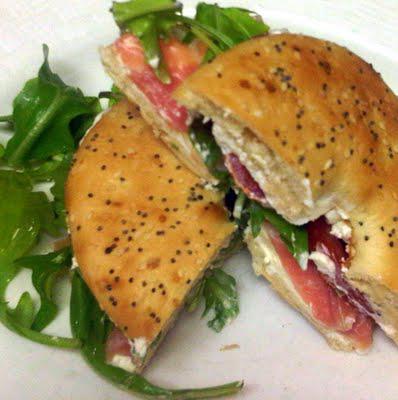 Ingredients:
An everything bagel
Philly's cream cheese
A small tomato
Arugula
Prosciutto
The bagel can be toasted or un-toasted, totally your preference.

  

Spread cream cheese on both sides of the bagel.

 

Add 2 or 3 slices of prosciutto and top with a few slices of tomato and arugula.

 
Cut in half and serve.

 

This sandwich is the perfect blend of creamy cheese and salt cured ham.

 

The tomato and arugula add a touch of sweetness and spice.

 

You'll love it.
What's your favorite sandwich?