I have to admit I was scared to do this one.

 

I had not reference material and the idea came right out of my clueless little head.

 

I first wanted to try this sometime in May or maybe it was sooner, and the furthest I got was buying the Oreos.
Which I ate.
Out of fear of course.

 
I didn't want to eat all the Oreos, but I had to.

 
I couldn't have them all be sacrificed for some crazy dessert idea I had stashed in my head.

 
That would be insane.

 
So I ate them.

 
All.
Yet, the idea remained.

 
Cheesecake.

 

Oreo crumb crust.

 

Ice Cream.
If you dream it.

 

You can make it.
And I did.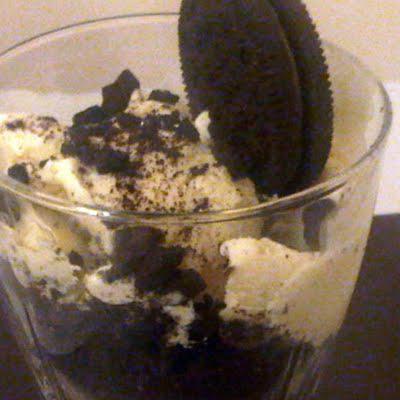 What you need:
1 pint vanilla ice cream
1 8 oz.

 

Package of cream cheese
2 tbsp sugar
2 tspns vanilla
1 package Oreo cookies
Using a blender or food processor, blend the cream cheese, sugar, and vanilla together until smooth.

 

Add the ice cream one scoop at a time and mix in between scoops.
Mix until smooth.

 

Pour mixture in a freezer tight container and place in freezer.

 

This will need to sit in the freezer for 2-3 hours.
Separate about half the cookies and remove the filling .

 

 
Use a food processor and chop the cookies into crumbs.
Fast forward the clock and it's time to eat.
1 or 2 spoonfuls of Oreo crumb, 1 scoop of cheesecake ice cream, and a cookie on top for garnish.

 
Now dig in.
This recipe is super easy and fast if you don't count the freezing time.

 

Let me know what you think.

 
Enjoy.