By now you all realize my idea of cooking means I'm out of the kitchen in 30 minutes or less.  I'm no Rachel Ray, but when I get home at 5:30 P.M. with the boys, and have to get dinner on the table, I pretty much become a short order cook.  
I cook on demand and on the fly.  The worst part is I'm usually not getting any orders or direction, nor do I have any discernible plan when I enter the kitchen, most days.  
Recently though, I started using rice noodles and I am completely in love with them.  They are so easy to use and prepare and is awesome for making Thai food like Guai Thiau Muh, or fried noodles with pork.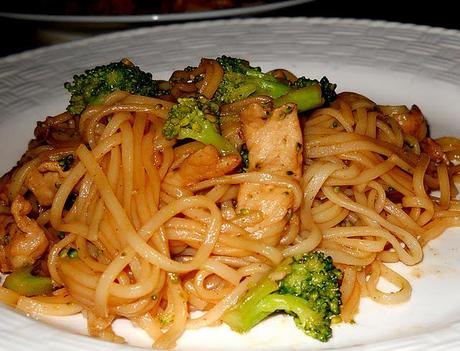 What you'll need:
10 oz rice noodles
3 tbspn fish sauce
3 tbspn sweet soy sauce
(you can find the above items in the Asian section of your grocery store)
13 oz pork filet
4 tbspn oil
1 lb broccoli
2 eggs
1 1/2 tbspn sugar
1 tspn fresh ground ginger (optional)
1 tspn crushed red peppers (optional)
Get cooking:
Slice pork fillets and marinade with about 1 tbspn oil and soy sauce.
In a pot bring about 3 cups of water to boil and cook the rice noodles for five minutes. Drain noodles and wash with cold water.
Cut broccoli into bite-size pieces and steam in a pot with some salt water.  Once cooked, remove from heat and set aside.
Beat the 2 eggs and set aside.
Heat oil in a wok or a pan. 
Add pork and stir-fry. 
Push pork to one side and quickly add beaten eggs. 
Once they begin to set, gently scramble them. 
Stir the pork in with the eggs.
Add broccolli and stir-fry.
Add noodles, fish sauce, soy sauce and sugar and stir well. (For some kick, add in the ginger and peppers).
This is a very easy meal to make and only takes 30 minutes.
What are you cooking up?  Share your recipe or food related post.