I am not the main cook in the Clueless Camp and I'm not ashamed to say it.  I work full time so it's not very easy to come home and get a meal going while trying to keep the boys from climbing the curtains.
That means all eyes and hands have to be at the ready to grab, chase, and snatch a kid up if needed.  I usually make quick dinners for the boys and Clueless Dad makes dinner for us after the boys go to bed.  The only problem is, we eat late.  Real late. 
So, I tried to help out by making a few dishes that we could freeze and defrost when needed.
The first dish I made was lasagna.  I've been making lasagna since I was a teenager and it's one of my favorite Italian meals.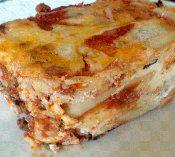 Here's what you'll need:
1 package of lasagna pasta
45 0z spaghetti sauce
1 lb mozzarella cheese
2 lbs ricotta cheese
2 tbspns sugar
1 tbspn Italian seasoning
2-3 cloves of garlic
1-2 lbs of ground beef
1 cup finely chopped spinach
1 small onion
For the Sauce:
In a large deep saute pan cook the ground beef on medium heat.  Cook until meat starts to brown.  Dice the onion and add in with the ground beef.  Dice the garlic and add in as well. Once the  meat has cooked through, place a top on the pan and drain any excess liquid.  Return to heat and add in the sauce, sugar, and Italian seasoning.  Stir occasionally.  Remove from heat once the sauce comes to a boil.
Pasta:
Place a large pot of water to boil and add a few sprinkles of salt.  Slowly add the pasta and boil on high for approximately 10 - 12 minutes.  Remove from heat and drain.
Preheat the oven to 350 degrees.  While the oven is heating, chop the spinach into small to medium sized pieces.  Using a large baking pan (11 x 14) start by spreading a layer of sauce on the bottom of the pan.  Place 3 strips of pasta on the bottom layer, add a mozzarella cheese, spinach, Ricotta cheese, and another layer of sauce.  Repeat until the pan is filled, making sure the final layer on top is mozzarella cheese. 
Place the pan in the oven and bake at 350 degrees for an hour or until the cheese is a golden color.  Remove from oven and let cool for 10 to 15 minutes before serving.
That's it.  The awesome part about making is dish is being able to portion it and freeze for later. 
Do you meal plan or freeze?  What foods do you find work best for freezing?