Okay, so now the reluctant cook gets cooking for real.

 

This is one of my signature dishes that I usually make in the oven.

 

Well, if you haven't noticed, it's July, and while I do have central air, I'm not messing up my 70 degree chill to use the oven.

 
Today, I'm going stove top and I'm turning baked Hawaiian turkey into stew.

 

For my fellow, don't want to do a whole lot of dishes peeps, I kept this to one pot.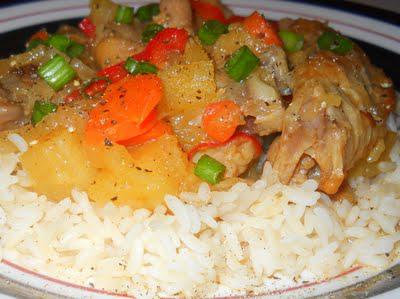 Here's what you'll need:
2 turkey thighs
2 turkey wing portions
2 whole turkey wings
1 can diced pineapples in pineapple juice
1 cup pineapple juice
1 red bell pepper
1 green bell pepper
1 small onion
4 carrots
4 tbsp butter
Salt
Pepper
Chili powder
1 tbsp brown sugar (optional)
Prep:
Cut thigh meat off the bone and cube into one inch pieces.

 

Cut the wing portions into 3 one inch pieces.

  

Separate the whole wings

 

so you have a drumstick and wingette.
Season wings with salt, pepper, and chili powder.

 

Slice onion, 1/2 a red pepper, and 1/2 green pepper then put aside.
Clean and dice carrots, then set aside.
Cook:
Heat the butter in a large pot.

 
Once hot, start frying the turkey, larger pieces first.

 

Fry until browned on all sides.
Remove the large pieces from the pot and toss in the remaining turkey.

 

Cook until brown, then remove from pot.

In the same pot, toss in the onions and saute until translucent, then toss in the peppers.
Saute peppers and onions for approximately 2-3 minutes, then add the turkey back into the pot.
Add in the can of pineapples and pineapple juice, and stir. (You can add brown sugar for extra sweetness).
Cover the pot and let simmer for 15 - 20 minutes on medium heat. Stir occasionally.
Add in the carrots and let simmer, covered, for

 

another 5 - 10 minutes.
Remove from heat and serve over rice.

 
Serves 6 -8 depending on portion size
Like this recipe?

 

Share it with a friend, they might like it too!