Here'sanother one of my remix recipes.  One of my first recipe posts, Makeover Pork, involved taking leftovers and making a whole new meal out of it.  
I'mpretty much a master at this now since I can never remember to defrost anythingto cook for dinner.  I'm usually scrounging around the refrigeratortrying to find something I can use to make a meal with.
That'sjust what I did last week when Clueless Dad came home from his trip.  Theleast I could do was give him a night off his first day back.  Lucky forme, I had made a beef roast earlier in the week, so that was my inspiration formaking this easy pepper steak dish.

Peppersteak is a great dish to make especially when you already have the steakcooked.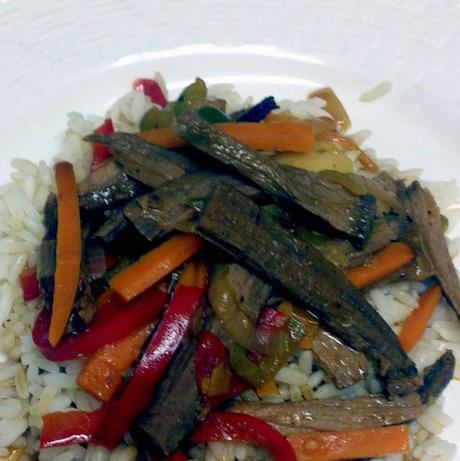 What You'll Need:1 onion1 half red bellpepper1 half green bellpepper2 tbspn Worcestersauce2 carrots1 tspn grated ginger1 tspn black pepper1 packet of browngravy4 oz waterSaltSugarAbout 12 oz cookedbeef
Start slicing theonions, peppers, carrots, and beef. 
Preheat a sauce panwith a tspn of vegetable oil.  Toss inthe onions and sauté until translucent. Add in the peppers, carrots, and ginger. Sauté for about 5 minutes.  Add inthe beef.   Sauté again for about 5minutes , then add in the worcester sauce and water.  Cook on high for about 5 minutes to reducethe liquid.  Next add the black pepperand about 1 tbsp of brown gravy powder. Stir constantly until all powder is mixed in.  Add in salt and sugar to taste.
That's it.  You're done. Serve over rice  and you'll havedinner on the table in no time.
That's myrecipe, now I want to see yours.


<center><a title="Parenting ... smh" href="http://www.parentingsmh.com/" target="_blank"><img border="0" src="http://2.bp.blogspot.com/-mxCv2ZGfcBQ/TmQhjKjCmhI/AAAAAAAAAcw/ZUbQOFjT70s/s1600/tasty+tuesday+button.jpg" style="" border="0" height="132" width="100" /></a></center>