So I'm at itagain.  Completely unprepared to makedinner for the boys this Sunday.  Thistime, it was after flying in from a weekend in Rhode Island.  As usual nothing is defrosted (not my faultthis time, I wasn't even home) and I was totally uninspired.  All we had in our meat freezer was porksteaks, chicken breast, and ground turkey. 
I went with theground turkey and made my own version of hamburger helper (minus the helperpart).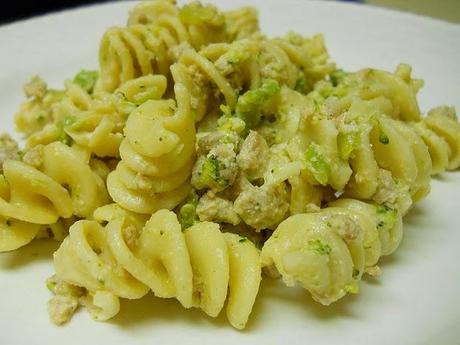 What you'll need:
 2 cups rotini pasta (or elbows, chooseyour  pleasure)
1 cup ground turkey
Salt
Pepper
Oregano
1/2 tsp garlicpowder
1/2 cup milk
1/2  tbsp butter
3-4 slices Americancheese (not the best cheese but it melts great)
2 ounces freshgrated parmesan cheese
1/2 cup finelychopped broccoli

Get your waterboiling for your pasta.  I use add a fewshakes of salt in the water.  Once thewater starts boiling add the pasta and stir occasionally so the pasta won'tstick together.  Pasta will usually cookin 12 minutes.  Strain and set aside.




In a deep sauce panheat butter.  Once the butter is heated,toss in the turkey.  Salt and pepper totaste.   When the turkey is cooked through,add milk and cheese.  Stir until thecheese is all melted and blended in.  Addin a pinch (literally) of oregano, garlic powder, and broccoli.  Turn fire down low and let the mixture boildown and thicken.




Once the sauce isthickened, add pasta, and mix in with sauce until all pasta is covered. 




Now it's ready toserve.




The boys ate thisup, and thank goodness because after a long weekend I had no plan B.