I don't cook very often - thank goodness.
I am truly 

lucky

 blessed to have a husband who enjoys cooking, I mean really enjoys cooking. Its great for me.  I don't have to rack my brain every night creating meals for the whole family.  As it turns out, J is what you call a finicky eater, which means I have to get about 3 different dinner options out for him each night, just in case (3 meals a night is plenty).
Now, let me be clear. 
I can cook. 


I just prefer to only do it

when I'm in the mood

the 2 nights a week I agreed to.

 

This week, I decided to make something special.

 

I was inspired by 

McCormick

 and Schmick's crab tower.

 

Here is a recipe for my take on their signature dish...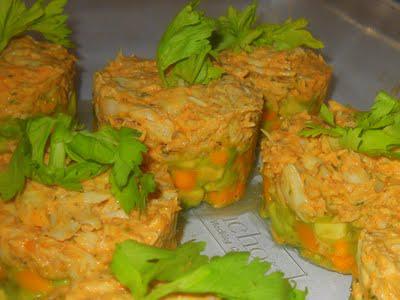 Crab Mango Avocado Tower
Roumolade Sauce
1/2 cup of Dijon mustard (here's a little trick: if you don't have Dijon mustard use about a 1/4 cup of mayo and mix it with yellow mustard and about 1/2 tbsp of honey, this is what I did) You'll have to mix the mustard in incrementally until you get a taste similar to Dijon mustard  - close enough is good enoughA squirt of white vinegarJuice of half a lemon1/2 tbsp of horseradish1 tbsp of paprika1 tsp cayenne pepper1 glove of garlic crushedAbout a 1/4 shopped celery1 tbsp chopped parsley (fresh or off the shelf)A splash of Tabasco sauceA splash of Worcester sauce
Mix all ingredients in a food processor until smooth. 
Crab Mixture1 pound jumbo lump crabRoumalade sauce
Place crab meat in a large mixing bowl.  Slowly mix the roumalade into the crab meat .  Pour and mix incrementally (you don't want to over saturate the crab meat until all the crab  meat is coated with sauce.  Refrigerate until ready to use.
Mango avocado mix3 small mangos3 avocados4-5 slices pickled 1 jalapeño pepper (optional)
Dice 3 small mangos and place in a separate bowlDice 3 avocados and sprinkle lightly with lime juice.Mix the avocado and mango together.If you want a little more kick, finely chopped the slices of jalapeño peppers and  add to mix.
Using a thin cookie sheet or dish, place a cylinder molder(I'm trying to sound fancy here, but I just took an empty 4oz can of mushrooms and took off the bottom), place two spoon fulls of the mango avocado mix and lightly press down.  Add the same amount of crab meat on top and lightly press down.  Slowly lift mold.  Repeat until mixtures are done. 
Garnish with celery leaves, basil, or anything else that moves you and you're ready to serve.